eScan Antivirus Professional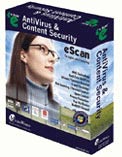 eScan Professional Edition is a comprehensive AntiVirus and Content Security solution that safeguards Workstations and Servers from Viruses, Spyware, Adware, Malware, Keyloggers, Hackers, Spammers, privacy related issues, objectionable content and many more.

It uses MicroWorld Winsock Layer (MWL) Technology to block security threats at the socket layer itself, way before they enter the application layer of your system. eScan gives the fastest updating protection against new and emerging threats while it counters unknown viruses using advanced Behavioral Analysis.

The Powerful Management Console of eScan provides options for system administrators to remotely administer a vast network of clients. It also allows them to remotely install eScan, deploy upgrades and updates and enforce an Integrated Security Policy for the entire Enterprise.




Software Information
System Requirements
Version:
9.0.779.1

Windows 98/ME2000/XP/NT/Vista
Pentium compatible processor 500 MHz
Also supports AMD / Cyrix Processors
Minimum 128 MB RAM recommended
800 X 600 or higher resolution.

License:
Free to try, $35.00 to buy
File Size:
67.8 MB
Rating :
Key Features of eScan Antivirus:
Powerful AntiVirus
The AntiVirus monitor of eScan constantly keeps vigil on every file inside the computer as well as files trying to enter the system via email, removable disks, web downloads and software vulnerabilities. Its large malware database contains all viruses appeared so far and their variants, while it's also updated continuously against new and emerging threats.
AntiSpam and Content Scanning
The Spam Control module of eScan uses a combination of technologies like email Header Tests, X-Spam Rules Check, Sender Policy Framework (SPF), RBL check, SURBL Check and Non Intrusive Learning Patterns (NILP). You can specify certain words or phrases so that mails with such words either in the subject, header or body will be identified and subsequently quarantined or deleted.
Web Scan and Parental Control
eScan gives you highly advanced features for blocking non-business, offensive and pornographic content accessed by employees in organizations, based on words and phrases appearing in such websites. Sophisticated algorithms are employed to avoid any false positives in this process. The same feature is used for advanced Parental Control for safeguarding kids from sleazy content, the home user versions of eScan.
eScan Management Console
eScan Management Console functions as a centralized server that allows you to remote install the software, distribute updates and upgrades to all machines in your network and enforce Integrated Security Policies for the entire organization. In a large corporate network environment, you can significantly reduce the costs and the Internet traffic by setting up a centralized updating structure. With this feature the security of the entire network can be controlled and managed at one single point.
Remote Web Administration
With eScanRAD you can access the Management Console via another computer through a browser and perform management tasks. It also helps in remote technical support for the software. Operations like installation, uninstallation and updating can be conveniently managed through this feature, irrespective where the administrator is located.
PopUp Filter :
Pop-ups are quite annoying while browsing on the Internet. Many sites have a number windows opening as soon as you visit them, which disturbs your activities on the computer and strangles the bandwidth. eScan offers a complete solution to this problem by providing a comprehensive Pop-up blocker option.
New "MWAV (MicroWorld AntiVirus) Utility":
MWAV is a Powerful anti-virus utility. With some new intelligent features added, it's all set to give you the best ever performance. Adwares. This module has the power for detection and disinfection of registry entries of Viruses, Spywares, Adwares and other malice, so that the system performance and stability can be improved drastically.
TCP Connections
TCP Connections is a network monitoring tool that examines TCP/IP activity on Windows computers. It lists all TCP and UDP endpoints on a PC, including the remote address (along with the Domain Name of the remote address) and state of TCP connections.
Web Washer for Privacy Protection
eScan Browser Cleanup feature provides an easy and automatic means to protect your privacy in such a way that you can erase details of sites and web pages you have accessed. It also provides features that allow you to remove tracks of your normal offline activity like opening closing files, delete operations, etc. Deleted files, Internet cache, history files, cookies, etc are removed permanently from your hard disks.
Multilanguage Support
eScan is available in multiple languages. You can choose the language while installing the software. The languages available are English, German, Finnish, French, Italian, Portuguese, Spanish, Polish, Chinese and Latin Spanish
RELATED SOFTWARE DOWNLOADS FOR ESCAN Antivirus PRO EDITION