Shield Antivirus - virus protection, virus scanning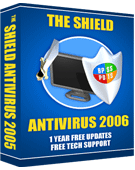 The Shield AntiVirus 2007 provides essential virus protection from viruses, hackers, and privacy threats. Powerful yet easy to use, It provides virus protection in Windows, emails, scripts, compressed files and macros. The Shield AV accurately detects and repairs viruses BEFORE they infect your computer. It is distinguished from the other Antivirus tools by its high-speed scanning capability and low system resources required to run. The Shield AV also scans and cleans email messages on a real time basis before they ever reach your computer.

Shield AV monitors all the paths that are vulnerable to infection for an Internet user. It detects and removes any virus or malicious codes when you download a file from the Internet. It provides you with a safe Internet working environment.
The Shield Antivirus 2007 gives you 1 year of protection and all the free technical support you need to successfully protect yourself. The Shield Antivirus now comes with Easy Installer, to make download and installation simpler than ever before.



Buy Now $29.99 USD
Software Information
System Requirements
Version:
2.0.1

Windows 2000/XP
Pentium or AMD processor
Internet Explorer 5.1 or higher

File Size:
8.24 MB
License:
Free to try, $29.95 to buy
Rating:
FEATURES INCLUDE:
Powerful virus scanning of Email and Mailbox Check-up Functions.
Shield AV enables you to scan attachments and detect viruses while you are receiving emails, on a real-time basis. Shield AV scans your email messages as they are downloaded from the POP3 server or Microsoft Exchange server. Virus-infected attachments are stopped before they even reach your computer.


Integrates on the Tool Bar of Microsoft Outlook.
It enables users to scan emails and edit the configuration for Shield AV. If Microsoft Outlook is used as your mail client, Shield AV provide on-demand scanning of local folders of infected attachments.


Supports various compressed files
Shield AV supports ZIP, ARJ (JAR), LHA, RAR, CAB, ACE, ZOO, GZIP (GZ), TAR, Z, TGZ, TAZ and more. Viruses in multi-compressed files are also detected/repaired. Computer viruses in compressed files of email attachments will also be stopped as Shield AV supports UUENCODE and/or MIME.


Enhanced Emergency Disks
You can create Emergency Disks to boot up your computer and eliminate viruses in emergency situations. Shield AV support FAT and/or NTFS file system and allows you to create the disk for DOS scanning.


Enhanced Update Function
Shield AV supports FTP and HTTP protocol so that you can update your engine even if you are using a firewall or proxy. Shield AV also offers an Automatic Update notice function that analyses your recent update patterns, as well as a Scheduled Update function for you to update your engine regularly. You may now update your engine with just one click.


Support Various Operating Systems and Multi Language Selection
Your Shield AV supports all Windows based platforms, including Windows 95/98/Me/2000 Professional/NT (Workstations)/XP. It recognizes English and other languages automatically.


MacRobot for Office 2000/IE 5.0 or higher
MacRobot, which is an exclusive macro virus-monitoring module, has been greatly enhanced to operate as a plug-in for MS Office family. It automatically detects and removes macro viruses when you open an Office document in MS Office or Internet Explorer 5.0.
What are viruses?
Viruses are small files that attach to emails or downloads and infect your computer which is why you need virus protection. They can be as harmless as displaying funny pictures on your monitor or they can go through your address book and send everyone within your address book the same virus. More dangerous versions can completely wipeout your computer and all your information and some can take over your machine and send spam from your computer. Without your knowledge, you can become a spammer. Virus protection saves you from virus problems.





RELATED ANTIVIRUS SOFTWARE DOWNLOADS