DirSync Directory Synchronizer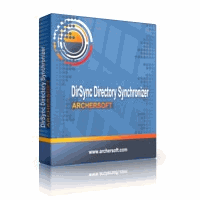 DirSync Directory Synchronizer is a powerful and flexible folder/file synchronization, replication and backup product. The synchronization is an effective and efficient way to backup files for it will only copy those files which are different between source and target folders. Using DirSync you may define multiple jobs and execute them at scheduled time automatically and silently. The sync is based on the user specified policy that simplify the setting of sync rules. DirSync support many powerful features and flexible options to be suitable for various situations.
There are many situations of using DirSync. For example, you can backup local working directories to safe place in a server, deploy or distribute files from one location to many other computers, synchronize data between desktop and laptop, backup your working data to external USB hard disk or flash disk etc.





Software Information
System Requirements
Version:
3.0.8 (Build 415)

Windows 8/7/XP/Vista
Intel Pentium III 1 GHz
256M RAM

License:
Free to try, $24.95 to buy
File Size:
2.83 MB
Screenshot :
View Screenshot
Rating :
DirSync Directory Synchronizer Features Include:
Policy based Synchronization
User can select a sync mode in policy page to determine whether to add, update or delete files/folders etc. Only the different files will be copied between the source and target folders.
Run as Service
DirSync Server can be configured to run as service or not. In service mode the jobs can be scheduled to run even when user do not logon.
Easy Job Management
Every job is stored in a single *.dsj file and all managed jobs are stored in a job folder or its sub folder. User can group several similar or related jobs in one sub folder to simplify the job management.
The jobs panel of main window supports multiple selection. Therefore multiple jobs/folders can be selected to perform an action, such as: copy, cut, paste, delete, enable, disable, postpone, bring forward, run, pause, stop and simulate etc.
Remote Administration
User can connect to the "DirSync Server" running on remote machines to manage the remote jobs easily and/or change some server options.
Simulation
Simulate the execution of the job to see what files will be copied or deleted, and what folders will be created or removed. The job can be configured to run in simulation mode only. Also user can use menu "Run/Simulate" to simulate any job.
Scheduling
The job can be scheduled to run one day, daily, weekly or monthly and to repeat in hours or minutes. It's easy to enable, disable, postpone and bring forward the schedule by using the commands of menu "Schedule".
Wake computer: Restore a system in suspended power conservation mode to run the scheduled jobs.
E-Mail Reporting
Send an e-mail notification after the execution of a job. The e-mail can be sent "on errors", "on errors or warnings", or "after each execution".
Unicode File Name and Long Path Name
Support Unicode folder/file name. Also support folder/file with pathname longer than 260 characters. (Up to 32767 characters)
Multiple Folder Pairs in a Job
Multiple folder pairs can be specified in a job and each folder pair can be enabled/disabled independently.
File and Folder Filters
Support five types of filters: "Folder Name", "File Name", "File Date", "File Size" and "File Attributes". Each filter can be "Include" or "Exclude". The file/folder name filters can support "Wildcards, Relative and Absolute path". The date, size and attributes filters can be applied to source, target or both sides of the folder pair. Each filter can be enabled/disabled independently.
Dynamic Running Info
During the execution, the following info will be shown in the "Statistics Panel": the elapsed time, the source and target folder being synchronized, the action being taken, the added, updated, deleted, skipped, excluded and pending count of files/folders/bytes, the sync progress.
The warning and error messages will be shown in the "Messages Panel".
Detailed Log
The actions, warnings, errors and summary info can be written into a log file for user to review later. User can choose what types of the info will be logged.
Multi-Threading Technology
Each job will be executed in a standalone thread. Consequently the running job can be paused, resumed or stopped manually. The priority of the execution thread also can be selected.
Bandwidth throttling
Limit the maximum transfer rate (KB/s). This feature can slow down the pulse of reads and writes, and keep bandwidth available for other applications.
Maximum execution time
Run job with a time limit.
Simultaneous Limit
User can specify how many jobs can be executed concurrently. This limit can be global or for each job, therefore some jobs can be marked to run alone. If this condition is not met the job will enter the waiting status to wait for other jobs to finish.
Path Variables
Path variables, such as date, time, computer name, user name or job name etc, can be used in any folder or file settings: source/target folders, log file, file filters, folder filters, deletion folder and pre/post-sync process command etc.
Comparison
Support two comparison method: "Time & Size" or CRC32.
Support "Ignore Time Difference": It's useful for Win9x/Me and many Flash/USB disks that still use FAT/FAT32 file system.
Support "Ignore 1 hour time difference for Daylight Saving Time".
Support "Ignore different modification time by the same file size".
Validation
Validate file after copying (using CRC32). This will be helpful to "Backup to CD-RW/DVD+RW/DVD-RW".
Intermediate File
Use intermediate (temp) file while copying. Update file only after successful copying.
Transfer Security Attributes
Folders and files security attributes can be transferred.
Transfer Folder Creation/Modification Time
Both creation and modification time of folders can be transferred.
Deletion Files
The deletion files can be moved to recycle bin (only for local files) or deletion folder. This can protect files from being deleted by mistake. The files moved to deletion folder can be purged after specified days to save the disk space.
File Revisioning
Several versions of an overwritten file can be kept in its owner folder or deletion folder. The max number of revision can be specified. It's useful in recovering a previously saved version of a file.
Pre/Post-Sync Process
Run an external application or batch command before or after the sync. e.g. map a network drive before sync and unmap it after sync.
Error Handling Mechanism
User can decide the behaviors the program will take when error occurs:
Whether to retry on errors? (retry times and waiting time can be specified.)
Whether to stop the job when specified count of errors is reached?
Command Line Parameters
Use command line parameters to start, stop or simulate the jobs. You may also create a shortcut on desktop of Windows to run the specified jobs.
RELATED SOFTWARE DOWNLOADS FOR DirSync Directory Synchronizer