BestSync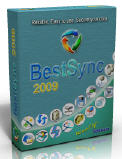 BestSync is a professional folder/file synchronization utility, for sync/backup files between your local folders and Network Drives, FTP servers, Removable Media (such as an USB disk).
BestSync 2009 provides six solutions: 1. File Backup: Automatically backup you critical data to external storage, NAS, FTP, network volume by a flexible schedule. 2. FTP Sync: Synchronizes changed files with FTP server in bi-direction. Automatically download/upload files from/to FTP server. 3.File Sync, PC Sync: Keep files and folders be same between your laptop and desktop computers. 4. USB Sync, Outlook Sync: Synchronize file, Outlook between office and home by USB drive or FTP with compression and encryption features. 5. Web Publish: Publish your website by a very simple and sure way. Only changed files are copied to the server. 6. Business Suitable: Many powerful features suitable for business solution. Please refer to following feature table.




Software Information
System Requirements
Version:
4.2.15

Windows 2000/2003/XP/Vista/2008/7
128 MB RAM

License:
Free to try, $19.95 to buy
File Size:
5.02 MB
Screenshot :
View Screenshot
Rating :
Main Features of BestSync:
Easy to use--Very intuitive user interface
Setup the sync-task in one task wizard, and all the advanced features are only options in the wizard.
Synchronize--Work with 2 or more computers
Single-Directional, bi-directional synchronization and file mirroring feature to ensure your workstation, laptop, and networked computers have the same files. BestSync can detect and synchronize file changes automatically, such as creating, updating, deleting and copying of files in subfolders.
Backup & Restore--Protect you data
Backup your important files anytime with a single click, and use the flexible scheduler to automate your backups. When disaster strikes, restore the backup data easily. Incremental backups and full backups are supported.
Encryption & compression--Keep your data private
For example, when you synchronize files to an USB drive in office, the files are encrypted and compressed. And when the files are synchronized to a home PC again, files are decrypted and decompressed. So it is safe even though the USB drive is lost. The default encryption algorithm is "Microsoft Strong Crypto graphic Provider" 128BITS RSA|RC2.
Synchronize with FTP server--Online access file
Synchronize only changed files with FTP server in bi-direction. Automatically download/upload files from/to FTP server. Using BestSync, publishing your website becomes easy and fast, only changed files are transferred to the server, and the deleted files on one side can be removed automatically by option.
Time zone support
Files can be synchronized correctly even the client and server are in different time zones. Optimized for synchronizing with FileZilla FTP server. Get accurate timestamp from server when download file, and preserve the timestamp when upload file to FTP server.
Synchronize with MS Outlook
Synchronize email, contact, schedule etc with MS Outlook by USB, FTP etc.
Preview--Confirm the sync action before running
In the preview window, you can modify synchronization action of the files, and confirm the result of the synchronization, or start the comparing tool to view difference between the files of two sides.
Real-time Synchronization
Synchronize files immediately after they are changed. BestSync monitors the change of the folders. When a file is changed, deleted, or renamed, the file is copied to, deleted from, or renamed in the target folder immediately.
Run as Windows Service--No need to logon
This is very suitable for a server to backup changed files, and workstation to backup files to a server. When synchronize with the network drive or shared folder. BestSync can impersonate a local user and logon to the network resource.
No file crash! No file lost!
No files will be crashed during synchronization. BestSync uses a temporary file as the target, only the temporary file has been copied successfully, it will become the target file. The files overwritten or deleted during synchronization can be backed up and restored later.
Resume a file transfer from the last break point.
The feature ensures large files to be copied successfully. This feature applies to FTP server, network drive, and shared folder.
Flexible Schedule--Automate your task.
A flexible can be specified to start tasks automatically. You can set any schedule you want! Just set-it-and-forget-it. Automatic synchronization, automatic backup, automatic upload file to FTP server is capable.
Trigger the task by the insertion event of a removable media.
When you insert the USB disk in to the PC, all the updated files are compressed and encrypted to the USB disk. When the synchronization completes, BestSync flushes all the data to the USB disk, it is safe to take the USB out of the PC. BestSync can modify the task setting automatically if the drive is mounted to a different drive number from the task setting.
RELATED SOFTWARE DOWNLOADS FOR BESTSYNC