Clever Cell Phone Manager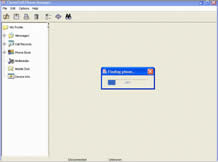 If you are looking for an easy to use yet powerful cell phone managing tool, you have just found it. CleverCell Phone Manager is an easy-to-use cell phone managing software designed for an automatic log and synchronize data of GSM phone with PC. It also has Multimedia Center for pictures and melodies management.

Today all major cell phone vendors make more and more sophisticated models with numerous functions and features that only few users are aware of. With CleverCell Phone Manager you can use your cell phone in a much more efficient way!

Store, backup and save all the data from your mobile. Set synchronization rules. View pictures and play melodies at Multimedia Center.

Also, with CleverCell Phone Manager you can browse the content of your mobile disk like you do it in Windows Explorer. The program can create/delete files and folders, search for files by name or mask, copy them on Mobile and back on your system.

CleverCell Phone Manager is intended for personal and corporate users, It works under Windows operating systems. Other platforms like Unix, Linux and Mac OS X will be supported starting from the next version. Currently Alcatel, Nokia, Siemens and Sony Ericsson phones are supported. Extra features require OBEX and IRMC support on your mobile.


Software Information
System Requirements
Version:
1.2

Windows 98/ME/NT/2000/XP
Infrared • BlueTooth • Serial Data cable
Processor: Intel Pentium II or above
RAM: 256Mb +
Space on Disk: 10 Mb
Software: Java Runtime Environment ver. 1.4 +

File Size:
1.19 MB
License:
Free to try, $24.95 to buy
Screenshot:
View Screenshot
Rating :
Main Features of Clever Cell Phone Manager :
Logging of all mobile data, including messages, call records, and contacts
Multimedia center for pictures and melodies management (On Mobile and PC)
SMS messages management, SMS Sending
Phonebook data management and synchronization with PC
Phone disk data management (Mobile Disk Browser)
AddressBook, Messages and Calls records import / export in csv format
View, store, send, search, delete, update, synchronize functionality for all entry types
Phone general information view
Call Records management and archive
Automatic and scheduled synchronization (when Mobile is available)
Printing contacts, messages, call records
Every cell phone owner can take advantage of using CleverCell Phone Manager. Users can:
Store thousands of messages and calls
Not limit yourself to the standard list of 10-30 records. Store all your important sms and phone numbers. No more lost numbers at all, even if you had no time to add new number to a phonebook.
Upload/download pictures, melodies and games at no cost!
There are lots of free resources with ringtones and logos. Just download them via Internet on your PC and then via Multimedia Center upload directly on your Mobile! Also at Multimedia Center you can play melodies and view pictures on PC and Mobile.
Send SMS messages
Are you tired of typing them on a cell phone? If the greater part of a day big nice 102 keyboard is near you, no matter at home or in the office - type messages in CleverCell Phone Manager. It's very handy when your friend/business partner is traveling or less available by other reasons.
Use mobile as flash drive
People which mobile have enough memory can use it as portable storage. Via CleverCell Mobile Disk browser you can work with that drive as with usual hard drive.
Backup, log and and update Mobile and PC data
CleverCell Phone Manager automatically logs and save all data from mobile, including calls, messages and contacts.
Supported models
Alcatel

155, 156, 332, 355, 756, 757, 835, One Touch 320, 331, 511, 525, 531, 535, 556, 700, 715, 735

Nokia

2600, 2650, 3100, 3120, 3200, 3220, 3230, 3300, 3650, 3660, 5100, 5140, 5210, 5510, 6020, 6100, 6170, 6210, 6220, 6230, 6250, 6260, 6310, 6310i, 6510, 6600, 6610, 6610i, 6630, 6670, 6680, 6800, 6810, 6820, 7200, 7210, 7250, 7250i, 7260, 7270, 7280, 7600, 7610, 7650, 7700, 7710, 8210, 8310, 8850, 8890, 8910, 8910i, 9500

Siemens

S35, S40, S42, S45, S45, S55, S65, M35, M45, M50, M55, M60, M65 C35, C45, C50, C55, C60, CF62, C55, C65, A35, A36, A40, A45, A50, A52, A55, A60, A65

SonyEricsson

F500i, K500i, K700i, P800, P900, S700i, T100, T200, T230, T300, T600, T610, T630, T68i, Z500i, Z600

Note: Support for Alcatel and Nokia phones does not include Mobile Disk Browser and Multimedia Center functionality. However, we plan to fully support these models (as well as many others), look forward for future releases!
Technologies

CleverCell Phone Manager is built on Java technology. To connect your PC and mobile any connection type is applicable - IrDA, BlueTooth, or Data cable. For interacting with phones, we implemented GSM protocol. It allows to use main functionality with majority of GSM phones. However, advanced features require IRMC and OBEX support, and not available in some phones.