DataScene Deluxe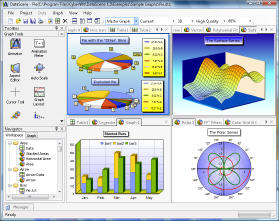 DataScene Deluxe is a data graphing, animation, and analysis software package developed with the latest generation of computational technologies.
With its powerful and user-friendly interface, the user can easily manage and analyze data, create and view high quality graphs, produce online and offline animations, monitor and chart real-time data, and print and export graphs and charts.
DataScene may be used to graph and chart scientific, financial, and statistical data, to analyze data with various mathematical methods, to produce publication quality graphs in various formats, and to make attractive animations for classes, presentations, and web pages. DataScene's real-time data charting and processing feature also makes it useful in applications such as data monitoring, laboratory data acquisition and processing, etc.




Software Information
System Requirements
Version:
1.8.0.0

Windows 8/7/XP/Vista
1 GHz 32-bit or 64-bit processor
100 MB Hard Disk Space
32 MB Graphics Card
512 MB RAM

File Size:
43.9 MB
License:
Free to try, $109.00 to buy
Screenshot:
View Screenshot
Rating :
Feature Highlights of DataScene:
Plotting 39 types of graphs with brilliant graph quality.
3D canvas for most graph types.
Supporting a wide variety of highly customizable graphical elements, such as transparent color, solid brush, gradient brush, image brush, hatch brush with 56 textures, shadow, visual aspect settings, etc.
Highly customizable and feature-rich graph axes, legend, marks, titles, and walls.
Rich text graph annotations with a What You See Is What You Get (WYSIWYG) editor.
Supporting 16 built-in graph themes and custom theme.
Analyzing and processing data using column and cell formulas.
Processing graphs with various series functions, such as Cublic Spline, Moving Average, Integrate, Differentiate, FFT, Nonlinear Regression/Curve Fitting, etc.
Powerful math parser supporting various built-in mathematical and text functions, including special functions such as Bessel, Beta, Gamma, Error, Hypergeometric, etc.
Creating graph animation using time-dependent mathematical formulas.
Creating graph animation using sequences of data.
Monitoring, charting, and processing real-time data.
Importing data from Microsoft® Excel, and various text file formats (delimited with any delimiter, CSV, and with fixed-width columns).
Exporting to a variety of graph formats: BMP, JPG, TIFF, PNG, GIF, EMF, PostScript, and PDF.
Exporting animated graphs and charts to AVI and animated GIF for offline playback.
Super clean, friendly, context-sensitive, and configurable user interface.
A rich set of graphical and data tools.
Automatic graph update and result recalculation upon data source change.
Key Features of DataScene Deluxe:
Data I/O and Manipulations


Importing data into data tables
Importing data into a data sequence
Importing text files (fixed-width, delimited, CSV).
Importing ODF spreadsheets.
Importing MS Access databases.
Importing MS Excel files.
Creating data sequences
Editing data sequences
Data table to data sequence generation
Data sequence to data table generation
Matrix data to XYZ values conversion
XYZ values to matrix data conversion
Column and cell formulas
Time-dependent formulas
Automatic 2D grid creation
Exporting data to text files

Graphing and Charting


Plotting 39 Series in high-quality graphs
3D canvas and aspect settings (rotation, elevation, perspective, tilt, etc)
Transparent color, shadow, bevel, and various brush types (Solid, Hatch with 56 textures, Gradient, and Image)
16 built-in themes and custom themes
Rich text annotations
Highly customizable legends, titles, axes, panel, and walls
Multiple graphs on the same canvas
Automatic update of graphs upon data source change
Exporting graph to various formats. Bitmap, JPEG, PNG, GIF, and TIFF.

Data and Graph Processing


Processing graphs with 20 Series functions, (Cublic Spline, Moving Average, Integrate, Differentiate, FFT, Nonlinear Regression/Curve Fitting, etc)
Data generation in series functions
Automatic recalculation of series functions upon data source change
Recursive series functions
Math parser with 57 built-in mathematical and text functions

Graph Animation


Animation using time-dependent mathematical formulas
Animation using sequences of data
Animation meter
Exporting animated graphs and charts to files in animated GIF and AVI formats

Graph Tools


Animation tools (Animator, Animation Meter, Graph Sequence, Time Travel, and Data Sequence)
Refreshing Linked Data
Graph manipulation tools (Rotate, Pan, Magnifier, Graph Layout, etc)
Utility tools (Cursor, Grow, Screen Reader, Column Formulas, etc)

Real-time Data Monitoring


Real-time monitoring, charting, and processing

Other


Dockable and configurable user interface
User-specific program settings
RELATED SOFTWARE DOWNLOADS FOR DATASCENE DELUXE