Clever Internet .NET Suite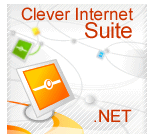 The Clever Internet .NET Suite represents 100% managed .NET components based on C# codebase, with no external dependencies.
These components allow you to send and receive mail, including HTML and MIME attachments, from within an application, download and upload Internet resources over most popular protocols.
The suite includes more than 30 components for Internet development and its code is constantly being refined and improved.
The Clever Internet .NET Suite presents the most efficient and convenient way of accessing Internet resources from your applications. Using the Clever Internet .NET Suite, you can implement many useful Internet-related features: Downloading, uploading and submitting of Internet resources, sending and receiving MIME messages, HTTP, FTP, SMTP, POP3, IMAP and NNTP clients, SMTP, POP3, IMAP and FTP server components and many more...




Software Information
System Requirements
Version:
7.10

Windows 7/2008/Vista/2003/XP/2000
128 MB RAM

File Size:
5.35 MB
License:
Free to try, $589.00 to buy
Rating :
Features at a glance:
Support for FTP, HTTP, WebDAV, SMTP, POP, IMAP, NNTP, DNS, S/MIME and many more.
Client and Server components with SSL / TLS support, attack-blocking.
Easy creation of the mail messages in any formats. Combining and submitting the Web Form POST requests.
Royalty free licensing. Free Unlimited Email support.
Fully-indexed help documentation. C#, VB.NET and ASP.NET demos code.
VS 2005, VS 2008 and VS 2010 support.
Compact Framework support.
Component List:
Async Client
Represends asynchronous TCP client which works in background without interfering with the main application thread.
Bounce Checker
Scans any POP3 mailbox for bounced messages.
Certificate Store
Manages digital certificates installed on a system.
Cookie Manager
Represents HTTP client Cookie manager.
DNS Query
Queries DNS for record information such as MX, IP, NS, CNAME.
DNS Server
Implements a server for the DNS (Domain Name Server) protocol.
Email Validator
This component verifies if an email address is valid, properly formatted and really exists.
Encoder
Provides methods for encoding / decoding the message content.
EPP Client
Manages objects within registries over the Internet.
EPP Server
Keeps an object information and allows you to manage objects within registries over the Internet.
FTP Client
Represents the FTP client for manipulating with remote files and directories.
FTP Server
Represents the FTP server component and is used for uploading and downloading files, as well as managing files and directories.
Gzip Compressor
Implements in-memory compression/decompression functions.
HTML Parser
Parses HTML document and extracts URLs, Forms and other tags.
HTTP Client
Represents the HTTP client for submitting or retrieving the information from web servers.
HTTP Request
Represents the Web Form Request data.
IMAP Client
Operates with mail messages and mailboxes on the mail server via the IMAP4 protocol.
IMAP Server
Represents the IMAP4 server component which allows receiving emails, as well as managing emails and mail folders on the server.
Mail Message
Represents the mail message data and the methods for its parsing and combining.
NNTP Client
Retrieves news to your local computer via the NNTP protocol.
NNTP Server
Represents the NNTP server which allows receiving news articles, as well as posting news to the newsgroups.
POP3 Client
Retrieves mail to your local computer from the mail server.
POP3 Server
Represents the POP3 server component and allows receiving messages from the server.
RSS Feeds
This component is used for creating, retrieving, and editing RSS feeds.
Server Guard
Provides algorithms for protecting server components from brute force attacks, connection flood attacks, user and IP filtering functionality and many more.
S/MIME Message
Encodes / decodes mail messages using the cryptography algorithm.
SMTP Client
Sends mail in text, HTML, MIME or UUE formats with attachments.
SMTP Relay
Delivers mail messages directly to recipient's SMTP server.
SMTP Server
Represents the SMTP server component which accepts and keeps emails from clients for further delivery to end recipients.
WebDAV Client
Downloads and Uploads files, manages files and directories on a Web server.
RELATED SOFTWARE DOWNLOADS FOR Clever Internet .NET Suite