XStudio Stylemaker
The first true cross-platform drag-and-drop XML development tool.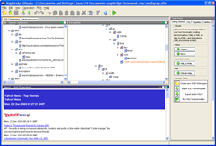 XStudio is a powerful and flexible development environment for building information integration solutions based on eXtensible Markup Language (XML) technologies, fully supporting the creation of XSL, XSLT, and of scripts to choreograph the integration and publication of information.

Information Integration solutions, such as EII, Data Federation, Customer Information Integration and Content Publishing bring together data, content and metadata from many different sources and formats, such as relational databases, flat files, mainframe data, Web services, digital images from content repositories, feeds from third party resources, other information from the Internet, etc. At the heart of these solutions are XML based technologies such as XSL and XSLT.




Software Information
System Requirements
Version:
2.5

Windows 9x/Me/NT/2000/XP/Vista
Pentium processor
64MB RAM

File Size:
26.2 MB
License:
Free to try, $49.99 to buy
Rating:
Key Features of XStudio Stylemaker :
No Knowledge of XSLT Required
Snapbridge XStudio creates all the XSL code required, all the user is required to do is provide the input, a sample of the output and then some simple mapping. Quickly create XSL stylesheets from existing HTML or XML files automatically. Basic XPATH commands are dynamically created when mapping from the input to the output. In addition to making XSL simple to users who have no XSL experience, XStudio is a full featured tool that any XSL expert can take advantage of.
Visual XSL & XSLT Creation and Testing
Stylesheets are generated by example using the drag and drop interface. Iteratively import source and target documents, and then graphically define transformations between them. No need for DTDs or hand-coding of XSL. Incorporates XPath visualization, syntax help, and integrated browser preview.
Visual XML Processing
Generate processing scripts for getting external data, choreographing transformations, federations and publication using a pipes and filters model. Scripts can be executed against an instance of Snapbridge FDX, our Information Integration Server for integrating large amounts of different kinds of data in real-time.
More Screenshots - Click each image to enlarge!