Wintuneup Pro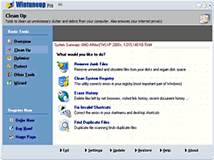 Wintuneup is the bundle of many utilities which are available in a single product. It will make your system run in a smooth, faster and error-free manner.

Wintuneup includes many tools like registry cleaner, duplicate and junk-file remover, memory and internet optimizer and many other utilities.
Wintuneup is compatible with Win 98/ME /2000 /XP(Home and Professional) Wintuneup extends the capabilities of windows operating systems and lets you do the tasks which are not possible in windows..




Software Information
System Requirements
Version:
1.03

Windows 9x/Me/2000/XP/Vista
Pentium or similar processor
64MB RAM

File Size:
2.69 MB
License:
Free to try, $29.95 to buy
Rating:
Wintuneup Tools:
OS Information - take stock of the vital system and operating system information.
Optimize your computer memory - make use of the available memory to its fullest thereby maximizing the performance of the PC.
CPU information - provides you a clear picture of CPU resources and their allocation and use.
Remove Junk Files - scans all the junk files from the disk which are missed by common disk Pro, Uninstaller, Defrag and Scandisk etc. and removes them.
Clean System registry - provides easy and non risky way of removing invalid and obsolete registry entries, references and links.
Erase History the information left on the PC and ensures privacy. Fixes invalid short cuts and Find duplicate files on the system.
Memory Optimizer - monitors the system and optimizes the memory and allows best utilization of the resources available.
Task Manager helps you in determine and see which tasks are of higher priority and clearly see resources and usage by various tasks and provides the power to alter them as well.
Internet and bandwidth optimizer - speed up the connection.
Secure delete files - deletes the secure files and make them unrecoverable.
Wipe/delete File - data deletes the files whose reference is removed from the file allocation table (FAT) but still exist on the free space of the disk.
Auto start manager put you in charge of which program should run at the startup of the windows.
Uninstall manager will assist you in uninstalling the programs.
Find empty folders lets you find unused empty folder and delete them and free the important disk space.
Disk analysis gives you the facility to know about the disk, in terms of allocated space to individual item (folder, files). Provides complete knowledge of the space occupied by every file and folder.
Tweak plus is a collection of small tweaking options which gives you the ability to customize various settings in startup, Control Panel, Desktop and other places.
Advantages of Wintuneup:
It will increase the performance by cleaning the registry.
It will clear the clutter of junk files giving more space for important files.
It can optimize the CPU usage.
It protects your privacy and no one can track what you did on your computer.
It will optimize the memory which means better performance.
It gives you complete information about the operating system and other hardware and software.
You can decide which important tasks you want to run at the windows startup.
It can optimize Internet connection which results in better speed and better connectivity.
RELATED SYSTEM OPTIMIZER SOFTWARE DOWNLOADS