RegWorks

RegWorks is the complete registry management solution.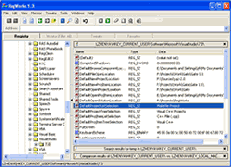 RegWorks can completely replace the standard registry tools. The built-in registry editor has the following additional functions: registry backup and restore, undo history, registry key comparison, capabilities to work with inactive (damaged) system registry, multiple-stream search, copying and pasting keys and values, read-only mode.
The built-in tweaker allows modifying many predefined operating system settings (~700 entries). The main functions include: creating and deleting tweaks and categories, importing and exporting tweaks, searching tweaks, copying and pasting tweaks, creating backups.
The built-in registry monitor is a tool for runtime intercepting calls for the registry processing functions. It allows flexible configuration of call filter and log highlighting rules.



Download Trial 972 KB
Software Information
System Requirements
Version:
1.34

Windows 98/ME/NT4/2K/XP.
The registry monitor is accessible only under the NT4/2K/XP; registry backup and restore, key permissions - under the 2K/XP operating systems.
Tweaker requires Windows NT4/2K/XP.

File Size:
972 KB
License:
Free to try, $30.00 to buy
Screenshot:
View Screenshot
Rating:
Key Features of RegWorks :
Registry Editor
Registry backup and restore.
Undo history.
Any modifications made to the registry with RegWorks, can be undone.
Key comparison.
For any two keys of the registry, the program can find distinctions in the keys, and values within those keys. For example, having compared some key and its copy stored on a hard drive, the program can find out: which keys or values have been removed or added, and which key values have been changed.
Search.
The search procedure is performed in a separate window and does not pause the program's execution.
Search and replace.
Search and replace is available in both manual and automatic modes.
Loading and Unloading Key.
Loading and unloading keys allows connecting the key files to the registry and disconnecting keys that are currently in use. For example, the program can compare a key to its previously saved copy. In order to do that, user needs to simply connect the previously saved key and use the comparison function. Please note: this function does'nt make any irreversible changes in the registry; the loaded key can be unloaded back at any moment.
Editing Key Permissions.
In the NT family of operating systems (starting with Win2k) RegWorks allows editing keys' permissions.
Using the Favorites.
The Favorites may contain both the keys and the values. User may add comments for both the keys and the values.
Viewing reg-files During Import.
For importing reg-files the program opens a new viewer window with capabilities for editing the contents.
Exporting Selective Values.
The program allows exporting both the entire key and its selective values.
Clipboard.
A key or its values can be copied or cut to clipboard and later inserted into another key.
Quick Jump box to jump to a specified registry key.
Read-only mode.
Multiple-window interface.

Tweaks
Adding, modifying and deleting tweaks.
Adding and deleting tweak categories.
Moving and copying / pasting tweaks from one category to another.
Exporting and importing tweaks.
Searching tweaks by miscellaneous criterions.
Creating backup file with original keys data.

Registry Monitor
Configuring flexible filter rules. Using filters you can monitor selectively only the read or the write operations; monitor all processes at once or just one selected process. You can even monitor a single key or value using filters.
Configuring the log highlighting rules.
Based on some tag or a group of tags you can configure the background color for a column or a line in the monitor's log.
Exporting the monitoring results into text-only or XML files.
The monitoring results can be saved not only as text files but as XML files also. Using the XSLT, an XML file can be converted into file of any other format.
Viewing the monitor log's contents in a web browser.
The HTML page of the log file is generated by the XSLT, which is configured in the program's settings.
More Screenshots - Click each image to enlarge!
RELATED SYSTEM UTILITIES SOFTWARE DOWNLOADS