Softes Windows Cleaner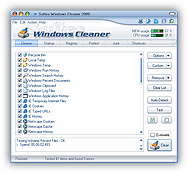 Windows Cleaner is an All-In-One cleaning solution. Cleaner takes care of your temp/internet files/folders, registry and junk files. All it takes is one click on any key (user choice) on a keyboard: user can clean windows temp folders, clipboard, run/search history, win recent documents, browser temp/cookies/cache/url list (working with IE, Firefox, and Netscape) and other application history like WinZip, WinRar, WMP, MS Word/Excel etc.
The application takes care of all windows startup places, alert the user when it comes to any kind of a change, protect IE registry keys (home page, search page etc.) and cleanup junk files from drives or folders. Furthermore, it contains some features for faster running application (from command prompt or combination keyboard keys), activating screen server or putting monitor in standby mode, preventing windows shut down etc.
Windows Cleaner can be invisible or minimized in a system tray. Also with the global keyboard hook it will respond to keyboard shortcuts from any application. All of that can be seen on a screen display. Windows Cleaner has clean and user friendly interface that takes minimum resources.



Download Trial 1.37 MB
Software Information
System Requirements
Version:
3.5.1.0

Windows 2000/XP/2003
Pentium or AMD processor
64MB RAM

File Size:
1.37 MB
License:
Free to try, $14.99 to buy
Screenshot:
View Screenshot
Rating:
Main Features:
Other Features:
Autodetect cleaning places.
Cleaning all Windows temps.
Cleaning all Browsers temps.
Secure delete sensitive data.
Cleaning guard.
IE registry keys guard.
Plugins support.
Plugins Factory.
Registry scanner and cleaner.
Full Registry backup/restore.
Windows startup guard.
Windows startup editor.
Junk files scanner.
Global keyboard shortcuts.
Custom keyboard shortcuts.
Custom registry shortcuts.
Manage IE cookies.
Manage IE temporary files.
On screen display.
Master volume control.
Prevent Windows shutdown.
Hide Recycle Bin Icon.
Cleaning in any interval.
Minimize to system tray.
Invisible mode.
Update without Browser.
Featured Functions :
With the Cleaner window tool, it is very easy to keep windows clean, safe and fast.


Cleaner List: Any place you want to be cleaned, must be placed on the cleaner's list.
Options: Here you can choose the items you want on the cleaner's list. There are three groups of items: windows, internet and other applications. The number of items grows every day.
Custom: User can add on the cleaner's list custom folders, files or registry keys.
Remove: An item that has been selected on the cleaner's list will be removed if you click on this button.
Clear List: All items on the cleaner's list will be removed.
Check Boxes: All items on cleaner's list will be checked or unchecked.
Clean: All checked items on cleaner's list will be cleaned.

With the Startup places tool it is easy to keep windows startup places clean.


Add: User can add custom items at any startup place.
Delete: Any item can be removed from any windows startup place.
Jump: All windows startup places are in the registry. User can see any startup item directly in the registry.
Hide Empty: Some of the windows startup places are empty. All the empty places can be hidden, that will allow easier and faster items checking.
Check: Application keeps in its memory the number of startup items. This feature will alert you if any change took place in any of windows startup places.

With the Registry Cleaner tool it is very easy to keep registry clean and fast.


Backup: The Registry is very sensitive. Therefore, before you proceed to cleaning, and fixing, make a backup.
Restore: Even if something has happend after the cleaning or fixing, The Registry can be easy restored.
Compress: The Registry backup is enormous (50-200mb or more) text file that can be compressed to 3-6mb. User can choose between the WinZip or WinRar compressors.
Options: Here user can choose the areas in the Registry that need to be checked, cleaned or defragmented.
Defragment: After the cleaning and fixing Registry entries, it is recommended to make defragmentation. The Registry tree can be much smaller after the defragmentation: up to 10-30%, that depends of the size of the registry.
Fix: All checked items on list will be fixed or deleted after scanning.
Check Boxes: All items on registry list will be checked or unchecked.
Scan: Start scanning registry tree, keys and values.

Main IE registry keys are protected and safe.


Open: Open and see selected registry value (internet address) in the default browser.
Delete: When selected, the value will be removed.
Jump: Any IE key user can see in the registry.
Check: Application keeps in its memory all the protected values and if change occurs, user will know.

With the junk tool it is very easy to find and clean junk files.


Drives: Here is the list of places that will be searched. User can add or remove any file or folder. In cases when user has a big list of drives and folders, all it needs to be done is to check off just specific places and uncheck all the other places. Wnen log in the next time, user will have to start the searchby checking all the places again.
Extensions: Here is the list of extensions. Same rules like with drives, list user can add,delete, check or uncheck extensions.
Delete: After the searching has been done, all the checked items on the junk list will be deleted.
Check Boxes: All items on the cleaner's list will be checked or unchecked.
Recycle Bin: If checked and deleted, the tems from the junk list will be moved to the recycle bin.
Scan: Begin with scanning for specific extensions on specific places.

Setup shortcuts and run the applications from windows run command.


Add Key: Browse for the applications, give shortcut name and put in the path to specific registry place.
Delete Key: Delete key from the registry.
Jump: Any shortcut key user can see in the Registry.
Modify Key: Change the shortcut name or the application path.
Refresh: Refresh the shortcut list, synchronize with the registry keys.
RELATED SYSTEM UTILITIES SOFTWARE DOWNLOADS