Web Update Builder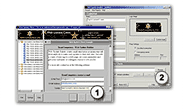 Web Content Management solution everyone can use
Web Update Builder creates small stand alone programs that will allow anybody to make easy updates to their web sites. Just add a couple of new tags to a web page, set some parameters and give your customers or colleagues reason to love you for.

Situation: Web site needs to be changed. It's just a tweak, couple of lines of text, new image, new phone number, link to some important information is changed, technical support has a new e-mail address... Anyway, it has to be done as soon as possible!

Traditional solution: Web site is your creation so you are called in to make those changes. As usual, such assignments come when they are least wanted. Dead-line on another important and much bigger project is approaching only too fast... On the other hand, you do not want to lose an old customer, so you somehow manage to find a spare moment to do it, knowing you can never charge a proper fee for that small job. Too bad...

Web Update Builder solution: When you were designing the web site you made it ready for this kind of situation. Your customer has Web Update Client application you gave them. They start it, select a page to change, type in new value in a standard text box, change an image, click on Update and the job is done. Will your customer call you? You bet! Satisfied customers always come back with new assignments.




Software Information
System Requirements
Version:
3.1 Build: 311041223

Windows 8/7/XP/Vista
Internet Explorer 5.0 or higher
Pentium II CPU
64 MB RAM

File Size:
762 KB
License:
Free to try, $149.00 to buy
Rating:
Web Update Builder Features:
One-step solution for easy update of web pages.
Creates stand alone Web Update Client programs.
Allows inexperienced users to make changes to the web site.
Applicable for text, URLs and e-mail addresses.
Available HTML tag extension for Dreamweaver.
Built-in FTP client with support for Active and Passive FTP Modes.
Works with object groups(add, duplicate, delete).
Allows editing contents in tables, lists and similar structures.
More Web Update Builder Screenshots - Click each image to enlarge!