123LogAnalyzer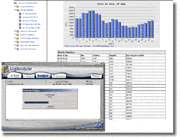 123LogAnalyzer is a powerful webmaster tool that turns your web logs into a comprehensive and easy to read analysis of your customers and prospects. 123LogAnalyzer tells you how visitors browse your web site, which pages they view and which they ignore, how long they spend on your site, and where they come from.
Features include high-speed processing, low disk space requirements, built-in IP mapping and 123LogAnalyzer's unique filtering capabilities.
Very simple to use, with detailed tables and charts produced in an easy to understand, professional-quality report. Fast, powerful and professional.




Software Information
System Requirements
Version:
3.10

Windows 8/7/XP/Vista
Internet Explorer 5.0 or higher
Pentium II CPU
64 MB RAM

File Size:
1.34 MB
License:
Free to try, $123.45 to buy
Screenshot:
View Screenshot
Rating:
Key Features of 123LogAnalyzer :
Fast speed analysis: 123LogAnalyzer can analyze a website log file at 1GB per minute (94,000 lines per second). On an 800Mhz PIII computer running Windows 2000, it can analyze a 625MB log file in only 37 seconds.
Easy-to-use interfaces: Intuitive user interface that requires no technical knowledge whatsoever(Windows version).
Multi-platform support: Runs under Windows, Mac OSX, Linux, FreeBSD and Sun Solaris platforms. It can either run on client PCs or on servers.
Professional HTML web traffic analysis report:

General overview of your Website's performance and visitor behavior.
Statistics about web server activity. This report displays the number of visitors, the number of unique IPs, the amount of bandwidth used, and the number of hits the site received, broken down by Time Increment, Day of the Week, and Hour of the Day.
Statistics about the type of data visitors access on your site. This report shows web pages viewed, files downloaded, directories that were accessed, and images that were accessed during the time period entered. This is broken down by Page Views, Browsing Sequences, Downloaded Files, Accessed Directories, and Accessed Images.
Statistics about referrer information. This report shows which Domains and URLs your visitors come from, broken down by Referring Domains and Referring URLs. Referrers are the sites which have links to your site. For example, if we had a link to your site on our web pages, then the referring domain would be 123loganalyzer.com. If the link was on our index.htm page, then the referring URL would be http://www. loganalyzer.com/index.htm.
Statistics about search engine performance. This report displays the search engines which referred visitors to the site, the phrases visitors searched for, and the keywords visitors searched for broken down by Top Search Engines, Keywords, and Each Search Engine.
Statistics about visitors' geographic region. This report displays a Most Active Countries graph and, a table showing which Countries your visitors come from.
Statistics about visitors' browsers and platforms. This report shows what browsers and platforms visitors use.
Statistics about server errors. This report shows errors visitors encountered at the site, broken down by Missing Files (404) and Miscellaneous Errors.

Advanced visitor filter:
The powerful filter options available in 123LogAnalyzer set it apart from any other log analyzing applications. They provide you with far deeper and more specific analyzing.

123LogAnalyzer offers the following advanced visitor filter options:

Visitors who accessed specific pages or files. (Example: you can use this filter to see how many people visited your download page, or how many people downloaded a specific file.) You can also choose whether you want to match visitors who accessed ANY of the files listed or ALL of the files listed.
Visitors who came from specific referring URLs. (Example: you can use this filter to see how many visitors came from a page you have an advertisement on.)
Day of Week. (Example: you can use this filter to see what happened on a specific day.)
Hour of Day. (Example: you can use this filter to see what happened at a specific time.)
Visitors whose first visit is a specific page. (Example: use this filter to see which page on your website is the first page most visitors view first.)
Visitors' countries or regions. (Example: use this filter to see how many visitors are from France or Japan.)
Visitors who make purchases on your web site. (Example: use this filter to see information on visitors who actually buy something from your web site.)


Using a single filter is in itself very useful, but when you combine the filters, you unleash the real power of 123LogAnalyzer.

For example, not only can you see how many visitors visited the "BuyNow" page, but you can also see how the same people then viewed other pages on your web site, what their browsing sequence was, how many files they downloaded, where they came from, and what search keywords they used to get to your web site.

Another example is that you can combine filters to find out which visitors from Europe viewed both your "BuyNow" page and "SpecialOffer" page, to see how they react to your marketing efforts.

Can run on both client side and server side.
Supports major web server log file formats on both Windows and Unix platforms.
Auto detects log file format.
Reports on multiple log files as if they are one continuous log file to view historical trends.
The time zone of the log file can be adjusted. For example if the log file uses the Greenwich Mean time zone but you are in the Central time zone you would need to adjust the time by -6 hours.
Can analyze commonly-used ZIP and GZ compressed log files without first extracting them to your hard drive, so you save disk space and download time!
Can download log files from remote FTP or WWW server.
Can automatically run a report from the command line.
Unique internal IP mapping technology that produces extraordinarily accurate visitor geographical statistics at blinding speeds.
Fully customizable HTML report template: Add your company logo to all 123LogAnalyzer reports, and then give them to your clients!
More Screenshots - Click each image to enlarge!