SpamRemover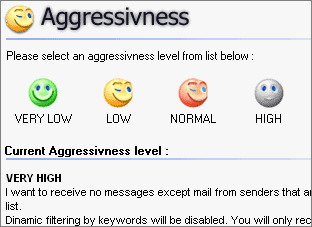 Are you flooded by SPAM? You can save yourself from unwanted junk mail by installing SpamRemover.
SpamRemover is a powerful tool that filters your incoming email using its content and sender. Spam is here to stay and it will only get worse. You need an effective solution to your spam problems now, before it is too late. Of course, you could take the temporary and increasingly time-wasting solution by deleting them. However, deleting spam is only a temporary solution and the situation will only get worse. That's why you need SpamRemover, the permanent solution for getting rid of unwanted mail, frustration and waste of time.
SpamRemover is the just solution to solve these problem above. Once installed it is trying to set the most common email clients to enable the spam filtering. All incoming emails will go through SpamRemover which filter, compare and learn from emails you get daily, so you'll get a clean mailbox in just a few days. It might take a few days for SpamRemover to adapt to your needs. More than other antispam applications, SpamRemover is very flexible and really easy to use.
Software Information
System Requirements
Version:
1.9

Windows 8/7/XP/Vista
Pentium or similar processor
512 MB RAM

File Size:
2.08 MB
License:
Free to try, $19.95 to buy
Screenshot:
View Screenshot
Rating:
Main SpamRemover's features:
Learning options
SpamRemover can learn from your actions. While you continue your work it's learning in background.
Advanced text recognition
Using latest research in this domain, SpamRemover can stop about 99% from junk emails.
Ask for confirmation
Maybe a friend is writting to you and his email is blocked by SapmRemover. You can ask SpamRemover to send and request for a confirmation from sender, to make sure the email is not spam or sent by mistake.
Word Filter
It is a pre-defined, customizable list of words that use to appear in SPAM emails (e.g. "offer", "opt in", "subscribe", "free").
Aggressiveness
Each word from SpamRemover's words list has assigned a value that represents the possibility for the email that it contains to be spam. Set the maximum spam value of the emails that must achieve so that they will be considered Spam.
Training Area
The program actually "learns" from you what emails should be treat as SPAM.
Emails backup
SpamRemover keeps a backup of your emails no matter if they were treated as spam or not. Even if your email client fails, you still have a backup copy of everything was sent to you.
Active Security
Since SpamRemover stops the automatically sent emails by spammers, it is the first closed door when a trojan attacks your computer.
Passive Security
If you share the same computer with other users you can set SpamRemover to request for password in order to allow other users to access your emails.
Statistics
SpamRemover displays advanced email statistics so you'll be able to evaluate and adjust the SpamRemover's performances.
Stay up to date
Join the SpamRemover network and stay up to date, so you'll get the benefits of the million users work. Share your SpamRemover settings, so we'll win another battle against spammers.
Easy to use
Easy-to-use wizard helps you to automatically integrate the application with the most popular email clients (Outlook, Netscape Mail, Eudora, Pegasus Mail, Phoenix Mail).
Top 10 reasons to use SpamRemover:
SpamRemover gives you everything you need to quickly get started without spending countless hours trying to figure out menu after menu of controls.
Since SpamRemover identifies unwanted content you'll be able to browse your emails faster.
Save the junk emails into a special location, so there is no way for you to lose your emails.
You'll be able to restore the emails anytime you want.
Most of the viruses spread around the web through emails and most of them are new viruses that regular antivirus software have not been designed to fight asgainst them yet. The only solution you have is to accept emails just from your friends, collegues, familly.
SpamRemover's email filter uses a fuzzy logic expert system to determine which messages are spam, and which aren't.
SpamRemover works with over 10 email client so changing the email client does not means you have to change the antispam solution.
The ProductsFoundry's team is working to improve the mechanisms that run behind this antispam solution. Getting SpamRemover you'll get also one year subscription for free updates.
More Screenshots - Click each image to enlarge!