SPAMfighter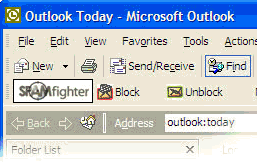 SPAMfighter is Europe's leading Anti Spam Filter for Outlook and Express, Windows Mail and Servers.
665.953 users are already Spam protected by SPAMfighter, and in the last 24 hours 1.376 new SPAMfighters joined the battle. If a SPAMfighter receives a spam mail that is not detected by SPAMfighter, the user reports the spam mail with one click, and it's removed from the rest of the SPAMfighters in seconds.
SPAMfighter has partnered up with Microsoft to build the strongest, safest and most effective anti spam tool on the market. So if you use Outlook or Outlook Express and you want to get rid of spam, just install SPAMfighter. And if you use it at home, it's 100% free.
Whenever new mail arrives, it will automatically be tested by SPAMfighter, and if it's spam, it will be moved to your spam folder. If you receive a spam mail that is not detected, click on a single button, and the spam mail is removed from the rest of the 665.953 SPAMfighters in 199 countries/areas in seconds.




Software Information
System Requirements
Version:
3.9.0

Windows 8/7/XP/Vista
Pentium or similar processor
Microsoft Outlook or Outlook Express
512 MB RAM

File Size:
9.83 MB
License:
Free to try, $29.00 to buy
Rating:
Key Functions and Features:
SPAMfighter Exchange Module (SEM), is the easy-to-use anti-spam solution for Microsoft Exchange Servers in small and medium-sized businesses.
SPAMfighter SMTP Anti Spam Server is the easy-to-use anti-spam solution for SMTP Servers that scales from small businesses to service-provider levels.
SPAMfighter Hosted Spam Filter is the easy-to-use anti-spam solution for companies, organizations and individuals that have their own domain name and want a hosted solution.
SPAMfighter supports the following mail servers: ArGoSoft, CMailServer, CommuniGate, Courier, DynFX, GroupWise, IMail, Kerio, Domino, MDaemon, Merak, MERCUR, MS SMTP MAIL Service, Netscape Messaging Server, NTMail, Postfix, QMail, Sendmail, Winmail, Winroute, WorkgroupMail, XMail and more.