URLBase 6 Professional Edition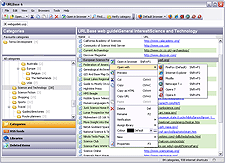 URLBase 6 is a powerful and easy to use bookmark manager. It provides a wide range of functionality, aimed to give you full control over your favourites and bookmarks, whether you're a novice or an expert.

With URLBase 6, you can store all your bookmarks and RSS feeds in one central database. You can import from and export to all major browsers in a few easy steps. Powerful management functionality allows you to validate links and scan the database for duplicates, keeping your bookmarks accurate and up to date. Flexible and customizable XHTML export enables you to publicize your bookmarks on the Internet. The user interface is highly customizable and can be adjusted to your personal preferences.




Software Information
System Requirements
Version:
6.1.0.1130

Windows ME/NT 4/2000/XP/2003/Vista
Processor:Intel® Pentium® II/AMD® equivalent or faster
RAM:64 MB or more
Display resolution:800 x 600 pixels or higher

File Size:
Full version: 2.42 MB
License:
Free to try, $48.96 to buy
Screenshot:
View Screenshot
Rating :
The URLBase 6 Professional Edition Functions :
URLBase 6 uses a flexible and highly customizable user interface, providing you with powerful link management features far beyond the standard browser utilities.
Navigating your bookmarks is a breeze thanks to the straight-forward user interface, similar to the Windows® Explorer. Use the navigation pane to switch database views, providing easy access to all your RSS feeds and library definitions. Preview your bookmarks with the integrated preview browser and open them in your favourite browser.
You can customize the look & feel of URLBase by changing the display style. You can fully customize the toolbar and adjust the way URLBase displays bookmarks on screen. In other words: you can adjust URLBase to your personal preferences for the most optimal experience.
User defined libraries enable you to group links from multiple categories, using your own criteria. Using library definitions, you can quickly create a specific subset of links, for example for a project at work, for a links page on your web site or for a personal rating system.
The integrated libraries view gives you easy access to all links assigned to a specific library definition, eliminating the need to browse and search the full database.
To prevent the storage of duplicate data, URLBase 6 uses an Alias system, which allows you to create references to links in the database. This powerful feature enables you to store a single link in multiple categories without any overhead, keeping your database efficient at all times. In addition, you can verify your bookmarks. Using this powerful tool, URLBase verifies if a given site still exists and whether or not it has been modified since your last visit. The verification results can be easily filtered so you can quickly see which bookmarks generated an error and which have been updated.
URLBase 6 ships with flexible XHTML export capabilities, giving you full control over the appearance of the generated XHTML document through the usage of CSS style sheets.
Integrated RSS support let's you read the latest news headlines of all subscribed RSS feeds. RSS is a way for web sites to summarize their content and make it available in a so called RSS feed. By using an RSS feed, you can view the headlines without having to visit the site. Many news sites and personal logs provide RSS feeds.
You can add an RSS feed anywhere in the database. URLBase offers a special RSS feeds view from which you can manage all RSS feeds in the database, with easy access to all unread headlines and all headlines published today.
RELATED SOFTWARE DOWNLOADS FOR URLBASE 6 PROFESSIONAL EDITION