SQL Uniform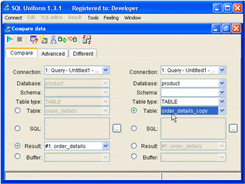 SQL Uniform is a database client, graphical user interface (GUI), a helper application to relational databases of various types regarding query, maintenance, data comparison, export (convert), import.
It supplies the databases with helper applications possessing a wide range of functions and several platforms accessibility. It allows graphical table design, running SQL statements, export, import and comparison of data in a heterogeneous environment and offers many other useful services that help you to perform your daily tasks more quickly and efficiently.
It has been tested on the following databases: Access, Adabas D, DaffodilDB, dBASE, Excel, HSQL, IBM Cloudscape, IBM DB2, Interbase (Firebird), InterSystems Caché, JDataStore, Linter (Relex), McKOI, Mimer, MSSQL, MySQL, Openlink Virtuoso, Oracle, Paradox, Pervasive (Btrive), Pointbase, PostgreSQL, Quadcap QED, Solid, SQLITE, StelsCSV, Sybase, ThinkSQL, Yard.





Software Information
System Requirements
Version:
1.8.1

Windows NT4/2000/2003/XP and Vista
Pentium II CPU
128 MB of RAM

License:
Free to try, $49.00 to buy
File Size:
3.6 MB
Screenshot :
View Screenshot
Rating :
Key Features of SQL Uniform:
Comparison


Comparison of data in database tables, even between different types of databases.
Comparison of results of any SELECT statements.

Export (convert)


aving of SQL queries' result data as text file, CSV or fixed length or HTML file.
Export of SQL queries' result data to any table of a different type of database.

SQL query


Optimized memory management. The memory will not be fulfilled even in case of queries containing millions of rows, because SQL Uniform stores the results in quickly accessible temporary files.
Semigraphic set of SQL statements (SELECT, INSERT, UPDATE, DELETE).
The result of SELECT statement can be updated on the spot.
Result can be filtered and ordered.

Administration


Table design.
Quick selection.
Database, table, object and connection information.

Platform


The application may be equally used under Windows, Linux, Unix, Mac OS, OS2 and Solaris as well as all kinds of operation systems, where 1.4.1 version of Java runtime environment can be installed.

Connection


Help on connection for more than 20 sorts of database (Access, Adabas D, DaffodilDB, dBASE, Excel, HSQLDB, IBM Cloudscape, IBM DB2, Interbase (Firebird), InterSystems Caché, JDataStore, Linter (Relex), McKOI, Mimer, MSSQL, MySQL, Openlink Virtuoso, Oracle, Paradox, Pervasive (Btrive), Pointbase, PostgreSQL, Quadcap QED, Solid, SQLITE, StelsCSV, Sybase, ThinkSQL, Yard).
Connection to any kind of database through JDBC or ODBC standard drivers.
You can browse the data of several various types of database at the same time.

Design table


Implementation worked out differently depending on the type of database. Basic level work out allows table and index maintenance, that of advanced level may contain check, trigger, view, primary key, foreign key, constraint, stored procedure management as well.
Supports every type of database at least on basic level by creating table and index, updating structure and dropping it.





RELATED SOFTWARE DOWNLOADS FOR SQL UNIFORM