Parabuild Server Professional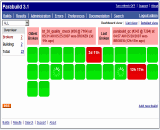 Parabuild is a software build management server that provides continuous integration and uninterrupted daily builds. Parabuild helps software teams and organizations of all sizes reduce risks of project failures, save money, and increase productivity.
Parabuild features an effortless installation process and easy overall use, automatic continuous integration builds, uninterrupted daily builds, remote multi-platform builds, fast Web user interface growing number of supported version control, and issue tracking systems. With Parabuild you build with pleasure!
Software Information
System Requirements
Version:
4.1.6

Windows 7/Vista/XP/Vista
Pentium II CPU
256 MB of RAM

File Size:
32.4 MB
License:
Free to try, $2800.00 to buy
Screenshot:
View Screenshot
Rating :
Here are Some Key Features of Parabuild:
Software Release Management
Continuous integration
Practically unbreakable nightly builds
Release builds
Multi-platform remote builds
Parallel builds
Manual patch builds
Fine-grained scheduling
Shell scripts, make, ANT, NAnt, MSBuild, Perl, qmake, ElectricAccelerator, MSDEV, nmake,Maven, Jam and VB
Version Control Integration
Support for Perforce, Subversion, CVS, Surround SCM, ClearCase, Serena ChangeMan (PVCS), Borland StarTeam, SourceGear Vault, Visual SourceSafe and MKS Source Integrity
Change lists
Multi-line VCS repository paths
Build labeling/tagging
Web User Interface
Fast, easy to use Web user interface (UI)
No more digging through configuration files
Dashboard and detailed views of builds statuses
Integration with Cenqua FishEye
Integration with ViewCVS/ViewVC
Statistics And Build Telemetry
Build time
Build and change trends
Build breakage distribution
PMD and Checkstyle statistics
Build Archive and Search
Text, HTML, Clover, Cobertura, JUnit, PMD, and findbugs logs
Searchable build log archive
Online build results access
Automatic archive cleanup
Notification
E-mail
RSS
Windows system tray
Instant messaging (IM)
Simple Administration
Simple three minutes installation
Low to zero administration overhead
Management through Web UI
System stability monitoring
Group based security
LDAP authentication
Issue Tracking Systems Integration
Jira
Bugzilla
Perforce jobs
Integration with ViewCVS and P4Web
Test Tools Integration
JUnit, NUnit, CppUnit and PHPUnit
Formatted reports
Statistics charts
Compliance And IT Governance
Know who, when, what, how and why.
Build configuration audit
Change lists
Benefits for Parabuild:
Benefits For Release Engineers
Stable build management infrastructure out of the box
Practically unbreakable nightly and daily builds
Easy to install and administer
Comprehensive Web UI
No limitations to used build scripting tools
Benefits For Software Developers
Parabuild ensures that the changes build cleanly
Parabuild provides exact information about nature of build failure
Parabuild allows to take immediate action to fix broken builds
Parabuild has a simple, convenient and easy-to-use Web UI
Parabuild is attractive to XP and Agile teams
Parabuild improves team morale
Benefits For QA
With Parabuild QA teams never run idle because of the failure of the nightly build
QA teams are provided with release notes
Benefits For Distributed Teams
Distributed teams using Parabuild enjoy significant time saving advantages
Parabuild solves problem of broken builds spawning across time zones
RELATED SOFTWARE DOWNLOADS FOR PARABUILD SERVER PROFESSIONAL