Ideaspad 2008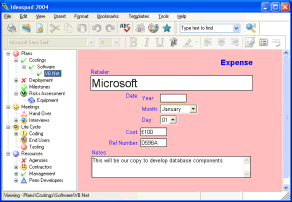 Ideaspad is an Award winning information manager for home and professional use.
It helps you to organize / manage your notes, information, documents, as easy to use as card file. Quickly create your own structure using templates (HTML Forms) e.g. addresses, orders. Create your own mini system overnight with hierarchical tree navigation, rich text topics, template topics and bookmarks. Manipulate your information by moving, copying topics and sub topics branches to suit your needs. All the basic word processor features including spell checker and rich text (RTF) capabilities. With multi-user features you can share your customized system with other users across a network. Import / Export wizards, for backing up your data, expanding your system and setting up new users. Catering for future change by providing a check for updates feature and a community offering add-ons to personalise (e.g. icon packs) or streamline using our extensive template library. Comprehensive help and quick start provided, making Ideaspad simple and easy to understand. A forum is available for further help and expert guidance from the developers and other users.




Software Information
System Requirements
Version:
1.2.0

Windows Vista, XP, 2003, 2000, NT, 98

File Size:
Full version: 1.45 MB
License:
Free to try, $25.02 to buy
Screenshot:
View Screenshot
Rating :
Ideaspad 2008 Benefits, Functions and Features:
Tree navigation, powerful information organisation feature, in a hierarchical manner.
Topics, sub topics and icons to help you identify your topic.
An information manager (or PIM) a database information.
It could be described as a cardfile or guide card collection.
You can use it like a jotter pad, allowing easy access to topics.
Not only a text editor, but a word processor and more.
Includes 'Quick Start' help, easing you into the software.
Setup your information in a way which suits you not us!
You can start out using it as a scribble pad and end up with a valuable collection of useful notes.
Basically a form in which to type your information.
It's made using HTML so you can write your own, with a little HTML knowledge.
Ideaspad gives you powerful features to create your own forms.
You can add information which can be used as reference material or just to add your own notes.
Create your own Templates (HTML Forms) add as much complexity as required.
Template help topics and sample included to get you started.
Rapid entry, quickly enter your information using a template.
You can also drag and drop branches to reorganise topics.
You can build a basic multi user system overnight, without the need for IT staff.
Then if your venture takes off, you can upgrade to a bigger dedicated system.
Build up structure information using templates, then you can export it a bigger system!
Rich Text Editor, Ideaspad uses Rich Text File format (or RTF) to allow colour and font formatting, similar to WordPad.
A basic word processor handling text and data.
Branch / Bookmark Icons.
Spell Checker, checks both text and templates (HTML Forms) text !!!
Use HTML forms to accept information, which is then stored within a database.
Rapid Entry.
Fully customizable.
Import Export features.
RELATED SOFTWARE DOWNLOADS FOR IDEASPAD 2008