CrossGL SnapDraw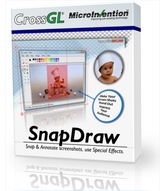 Make Your Screen Shots Stand Out, Impress Your Audience
Screen Capture software with High Fidelity Vector Graphics Annotation Tools and Effects, Create Annotated High-Fidelity Screen Shots... in Minutes, not Hours!

Most screen capture programs are fine if you just want to take an image of what's on your screen to include in your document or presentation. The hard stuff comes when you need to add annotations or special effects ! Out goes the screen capture program, in come the big gun photo editors, and the next thing you know, you've wasted hours trying to achieve simple callout boxes!
In CrossGL SnapDraw, all the complicated annotation graphics such as Callouts and Magnifier Lens or nice looking effect such as 3D perspective and Reflections - are built-in tools. With these tools, you just point and click to accomplish the work in a small amount of time while achieving High Quality of outputs.
It provides also multiple image capture composition editor with positioning, rotation, scaling and 3D perspective. Features also annotation tools, watermarking, reflection effect and FTP upload.





Software Information
System Requirements
Version:
3.15

Windows 7,XP,Vista (32 bit,64 bit)
512M RAM

File Size:
15.8 MB
License:
Free to try, $29.95 to buy
Screenshot:
View Screenshot
Rating :
Find out, what CrossGL SnapDraw can do for You ...
Capture
CrossGL SnapDraw is one of the few capture programs able to record transparency/translucency introduced by Windows Aero (tm) desktop theme.
Captures transparencies also in Windows XP, eg. rounded corners or custom shapes.
Useful also as a traditional screen capture tool. The transparency capture capability is not requirement, but optional advantage.
Compose:
Put multiple screenshots into the one capture scene.
Position, rotate, scale and arrange screenshots.
Add arbitrary images or photos.
Add text or image watermarks.
Set background color or background image.
Annotate:
Add labels with pointing arrows and numbering to describe captured images
Highlight important parts with contour geometric primitives or transparent shapes
Write arbitrary text and use shadow effects
Archive and Share:
Save screenshot compositions as a complete projects with editable parts (text, arrow clouds, shapes, lines, images). Get back to saved projects later.
Save resulting images as JPEG, PNG, BMP or JNG (JPEG with transparency).
Upload resulting images to FTP, Send by Email or post to Twitter.
Copy resulting images to Clipboard.
3D Screen Shots:
Put captured screenshots or added images into the 3D perspective of your liking.
Built-in perspective edit tool lets you define arbitrary 3D perspective view in a few moments.
Reflection and Magnifier Lens Effects:
Choose group or individual reflection effect.
The size of reflection is computed as a part of resulting image and automatically adjusts to the scene size and constraints.
Magnifier Lens Effect helps focus to some important part of the screenshot and looks very nice.
Aspect Ratio is Easy:
With automatic aspect ratio alignation you will always create a proper-sized final images regardless of resulting pixel size dimensions.
Choose from typical aspect ratios such as 4:3, 3:2, 16:9 or define your own.
Choose from typical output image sizes including standardized sizes for internet banner advertising.
High Quality Graphics Outputs:
Features graphics engine with subpixel antialiased rendering for producing the highest quality of images without jaggies or other scaling artifacts.
All user editable parts such as annotations, geometric shapes, lines and text use high-precision full featured vector graphics engine with 256 levels of antialiasing.
RELATED SOFTWARE DOWNLOADS FOR CrossGL SnapDraw