SI-Metric Office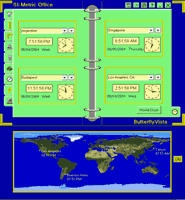 SI-Metric Office adds 5-tools to your Windows desktop. The talking Time and Task Reminder alerts you to upcoming events at a customizable interval. Say the time at an interval that you choose. The world map shows the time in up to 18-cities. The 4-grid timezone tab shows the date/time using both an analog and digital clock. Synchronize your computer to the atomic clock. Convert any unit from the US, metric, or British systems. International support!

Sometimes minutes count. Think about it. Don't miss lose time by having your computer's clock out of synch with the actual time. SI-Metric Office can align your computer's clock with one of several atomic timeservers scattered across the planet.

Do you find Microsoft Outlook's task list limiting and cumbersome to use? SI-Metric Office provides you a detailed task planner that can remind you of tasks with one of several voices. You can schedule the tasks to occur repeatedly or just once.
You can even "snooze" the alert, just like on an alarm clock.

Download Trial 15.5 MB
Software Information
System Requirements
Version:
2.11

Windows 7/Vista/NT/2000/XP
100 MBytes free hard disk space
64 MB RAM

File Size:
15.5 MB
License:
Free to try, $19.99 to buy
Screenshot:
View Screenshot
Rating:
Key Features:
More Screenshots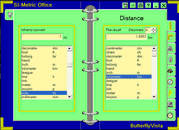 Click image to enlarge!
Talking Time and Task Reminder
This simple to setup time and task reminder will remind you at any interval that you specify of the task at hand. It will even talk to you. Choose to hear a sound, voice, both, or none. The choice is yours.
Clock and Voice Announce Time
This timesaver will say the time at any interval that you specify. You can even choose the voice that you want to hear. The clock shows the date, as well as both an analog and digital clock.
Customizable World Map and Clock
Designate up to 18-cities anywhere here on Earth on the world map that you want to show. You will see the current time in that city.
Four City Timezones
This timesaver will allow you to specify up to four cities/countries anywhere in the world that you wish to see the local time. SI-Metric Office shows you analog and digital clocks, as well as the current date and day of the week.
Clock Synchronizer
Synchronize your computer's clock an atomic time server. You can choose to use any of the timeservers anywhere in the world. Simply select from the list, which one you want to use.
Conversion Utility
When the time arises that you need to make a conversion, simply select the category using the book motif provided, enter the number, and select the beginning and ending units. SI-Metric Office contains a complete list of categories and units including U.S. Customary, metric, British, and those that you probably never heard of.
Customizable Colors
Use the default color motif, choose from several predefined themes, or create your own theme. You have total control over the visual experience!
International Support
SI-Metric Office comes with full support for international numerical formatting. No matter what country you are in or how you enter numbers or other information, SI-Metric Office has built in support for you.
Desktop Support
SI-Metric Offices comes with full support for normal, large, or custom system font support.
Windows System Tray
SI-Metric Office fully supports the Windows system tray giving you easy access to the features anytime that you wish.
Microsoft Speech Engine
This program fully supports the Microsoft Speech Engine and its various settings. SI-Metric Office and the Microsoft Speech Engine comes with several voices that you can choose from or download from the Internet other voices.
Installation
SI-Metric Office comes with a simple and intuitive installation utility.
Help
The program has a complete help system in case you get into trouble.
Support
Although you probably won't need it, SI-Metric Office comes with unlimited free technical support.
Unit Encyclopedia
Add SI-Metric Kids for a complete description, history, and trivia on the different units used today. SI-Metric Kids even comes with a little unit quiz section that allows you to your knowledge.
RELATED SOFTWARE DOWNLOADS FOR SI-METRIC OFFICE