Self-Extracting Archive Utility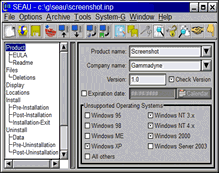 Builds professional software installation packages, self-contained in a single, compressed executable file.

Self-Extracting Archive Utility (SEAU) builds a professional software installation program in a single compressed executable file. The installer runs on all of the 32-bit Windows platforms (9x, NT, 2000, ME, XP, 2003). SEAU offers full support for uninstallation, multiple languages, interface customization, license agreements, readme files, file associations, DOS batch operations, multiple disk spanning, DLL installation, automated installations, patches, expiration dates, shared files, command line archive building.


Download Trial 2.65 MB
Software Information
System Requirements
Version:
13.3

Windows 9x/Me/NT/2000/XP/2003
Pentium or similar processor
64MB RAM

File Size:
2.65 MB
License:
Free to try, $49.99 to buy
Screenshot:
View Screenshot
Download:
Click to Download
Rating:
Self-Extracting Archive Utility Features:
Self-Contained Executable
SEAU creates executable installation programs that are self-contained in a single file. A single file is easily downloaded, requires no software such as WinZip to decompress, and ensures that all installation files are present.
Uninstall Support
SEAU can optionally provide support for uninstalling the product.
Multilingualism and Interface Customization
The installer is capable of presenting the user interface in English, French, German, Spanish, Dutch, Norwegian, Italian, Portuguese, Swedish, Danish, Finnish, Afrikaans, and Catalan. All strings that are displayed in the user interface can be edited. Entire languages can be added.
Shared File Support
The archive can install reference counted shared files in a company directory. Shared files can be used by multiple applications, and are only replaced by more recently dated files.
DOS Batch Support
To satisfy special needs, a batch of MS-DOS commands can be executed before and after both installation and uninstallation. Another batch can be run after the installer exits, perhaps to launch a custom configuration program. Batches of DOS commands can be used to execute, copy, move, rename, and delete files.
Multiple Disk Support
SEAU can create archives that span multiple disks. You can choose from several standard media sizes, or specify any arbitrary capacity. SEAU uses compression and every last byte of the media to ensure that the minimum number of disks are required.
File Associations
The archive can install an association between a file type and one of your programs, like the way .TXT files are associated with Notepad.
System Administrator Support
Several features make this a great utility for system administrators who must perform many installations. Run the installer/uninstaller in automatic mode with the "/a" command line switch: the archive will install its files without prompting the user for information.
More Self-Extracting Archive Utility Screenshots - Click each image to enlarge!