QSetup Installation Suite Pro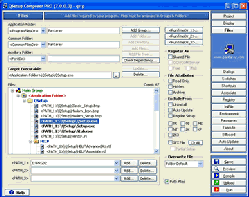 QSetup is today's most effective Windows Installation Software can produce setup files in the form of an MSI (Windows Installer) file as well as a traditional EXE file. Also the user can decide at anytime whether to generate an EXE or MSI installation from the same project definition.
Using QSetup you can create installation delivery that will AUTO-UPDATE from the Internet. Using QSetup you will create solid and dependable installations in a very short period of time. QSetup will produce a single Self Extract installation file that can be downloaded from the Internet, distributed on a CD or placed on a central File Server. QSetup is a 32 bit Windows program. It will run and create installations for Windows. QSetup includes Innovative execution engine that will let you define sophisticated operations by using a menu rather then scripting language. Upload your project directly from QSetup Composer using FTP protocol.
Software Information
System Requirements
Version:
11.0.0.0

Windows 2000, XP, 2003, Vista, Win7
512 MB RAM

File Size:
5.08 MB
License:
Free to try, $449.00 to buy
Screenshot:
View Screenshot
Rating:
Windows 8™ Ready!
QSetup is compatible with all 32-bit and 64-bit current Windows operating systems. Using QSetup Installation Suite you can already build your installations to be fully compatible with the up comming commercial release of Windows-8 32-bit & 64-bit. You have no time to lose. QSetup is Windows 8™ Ready!
64-bit Support
XP-64, Vista-64, Win7-64, Win2008-64 and Win8-64 Ready!
QSetup Installation Suite is now compatible with the following 64-bit operating systems: XP-64, Vista-64, Win7-64, Win2008-64 and Win8-64. Using QSetup you can compile 32-bit installation packages as well as 64-bit installation packages
Quick installation:
No Programming Required
QSetup from Pantaray Research makes project packaging fast and easy using our "intuitive" menus. Our unique "Execution Engine" can handle your most challenging installation tasks. It's so easy No need to read any manual, five minutes with QSetup together with its online exclusive help and you can create your first installation.
Internet Ready, Self-Installing Executable
Automatically generate a single-file, self-installing executable. Distribute your setup on any size or format of media, including web, email, ftp, CD-ROM, DVD, network drive. QSetup can also create Split Setup, where you supply your customers with a small Setup Kernel that will download the rest of the setup file automatically from the Internet.
Compact Installation
QSetup designers made sure your program installation code size will be very small compared to other installers.
Advanced Features:
Auto-update
QSetup is unique in it's ability to create setup that will AUTO-UPDATE from the Internet, when a new version of the program is available. Adding Auto-Update option to your program is very easy. The whole procedure can be completed using QSetup intuitive menus. No need to add any line of code to your program.
Execution Engine
QSetup features an innovative concept the "Execution Engine". This engine will let you define special operations to be performed during the various stages of the Setup and UnInstall process - using simple selections from drop down menus rather then script programming. The "Execution Engine" lets you perform a wide range of operations in a simple and intuitive way.
Tokenized Serial Numbers
The idea behind Tokenized Serial Numbers is to provide every one of your customers with a UNIQUE serial number which is based on a secret Token provided by you, and a "User Name" and/or "Company Name" provided by the customer. Use the "Tokenized Serial Numbers" feature to greatly reduce the piracy of your software and increase your revenues.
Online concurrent Help Support
QSetup is using an inovative context sensitive help that change with each tab you select, explaining everything as you go.
International Language Support
QSetup supports multilingual installations without the need to purchase additional language package. While some products charge you extra for this essential feature, QSetup includes pre-translated runtime support for English, French, German, Spanish, Italian, Portuguese, Swedish, Finnish, Dutch and many many more languages.
Complete Control:
Customizable Setup Dialog Interface
QSetup lets you present things the way you want. Customize the dialog sequence, add or remove dialogs, select images and modify text messages any way you like. The setup dialog will adopt XP Themes on XP Machines as well as modern and classic setup dialog style. QSetup gives you more flexibility with options to Select from several Background designs, fine tune the background color and have complete control of the text and fonts you are using. You can also add music during the setup process.
Complete Windows Support
QSetup is fully compatible with all 32 Bit Windows operating systems - including Windows 2003 Microsoft's latest Operating System.
Billboard
QSetup has Sophisticated Billboard capable of displaying images and text files during the setup process.
Powerfull System Control
A full suite of options are available for reading and writing information to and from the Windows registry, INI files, Environment variables and text configuration files. Create and delete shortcuts. Register fonts and ActiveX controls. Reboot the system. Start and Stop services. Call proprietary DLL functions. Using the "Execution Engine" - the list is almost endless.
Extensive File Handling Options
Complete version checking, file searching, copying, renaming, deleting, setting of attributes and more. If you can think it up, you can do it.
Comprehensive UnInstall
QSetup features a sophisticated and customizable uninstall feature with "Execution Engine" support. Turn it on and let QSetup worry about removing your software silently or with dialogs. It couldn't be easier.
More Screenshots - Click each image to enlarge!