CyberScrub Privacy Suite Professional Edition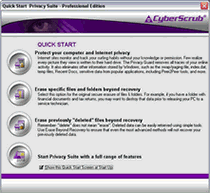 Did you realize every picture, video clip, graphic, email or chat room conversation is written to your hard drive? Privacy Suite protects you by erasing all evidence of your on-line activity.
Remember- "Delete" does not mean "Erase".
Deleted files are easily retrieved using simple recovery tools. Sensitive data, such as passwords, financials, tax and health records are at risk! Privacy Suite erases specific files beyond recovery, and can also be used to make sure previously "deleted" files cannont be recovered. Don't allow discovery by snoops, computer technicians or other unauthorized persons. Deleted data can come back to haunt you.
Privacy Suite is tested with Encase forensic software to ensure its effectiveness and reliability.

Privacy Suite includes a full scheduler, which allows for the flexible management of tasks. Run any feature at system (shutdown, start up, browser closing, etc.) or scheduled events. You can even wipe free space "when idle". Other notable features include auto removal of Thumbs.db, new erasure methods (Russian GOST P50739-95, German VSITR), addition of popular P2P apps, Windows Media Player 10, Acrobat 6 and the ability to create and submit Support Tickets directly from within the progam.


Software Information
System Requirements
Version:
4.0

Windows 98/Me/NT/2000/XP
Pentium processor
14 MB free disk space
16MB RAM

File Size:
2.56 MB
License:
Free to try, $49.95 to buy
Screenshot:
View Screenshot
Rating:
Privacy Suite Pro Features:
Completely eliminates sensitive data from your computer: valuable corporate trade secrets, business plans, personal files, confidential letters, e-mail messages, Media Player/Real Player history, Web browser tracks, AutoComplete, cookies, Recent Docs, Find/Run data, etc.. Supports Internet Explorer, Netscape, Mozilla and Opera.
Peer2Peer- Erase all evidence from 22 popular applications such as KaZaA, iMesh, Morpheus and more.
Privacy Suite erases data by wiping its contents beyond recovery, destroying its name and dates and finally removing it from disk.
Meets and exceeds the U.S. Department of Defense standards for the permanent erasure of digital information (U.S. DOD 5220.22).
Wipe compressed files on NTFS (allows wiping from the original location of the file).
Scramble file names and folders- destroy file attributes from FAT or MFT partitions.
Offers wipe methods that can stop both software and hardware recovery tools from restoring the erased data.
Stealth mode.
Isaac Random Gernerating Algorithm.
Completely destroys any data from previously deleted files that might still be accessible on your disk (in the Recycle Bin, in the unused area of the disk or in the slack portion of existing files).
Destruction of file attributes from previously "deleted" files.
Integration with the Windows Recycle Bin: Privacy Suite can destroy the files contained in the Recycle Bin beyond recovery.
Integration with the Windows shell. You can drag files and folders from Explorer and drop them in Privacy Suite, or you can erase them directly from Explorer or My Computer, with a single mouse click.
Eliminate newsgroup binaries (photos) and chat room conversations and Instant Messages that are stored on your computer .
Erases folder structures (folders with all their subfolders and files) and even entire drives.
Delete "locked" Windows files, index.dat, the swap file and "cookies" that track your Internet history .
Cookie management allows you to keep selected cookies .
Privacy Suite can automatically clear the contents of folders that usually contain sensitive data (such as the Web browser cache, Temporary Internet files, the recent document list, the folder designated for temporary files, etc.).
Advanced features like verifying each wipe pass and each disk operation allow Privacy Suite to intercept any failures and inform you if data is not successfully erased.
The command line parameters allow you to insert erasing commands to your BAT files and then run this BAT file automatically using SystemAgent or other scheduling software.
USB flash mini/thumb drives.
Supports FAT12, FAT16, FAT32 and NTFS file systems, floppy, ZIP and Jaz drives.
More Screenshots - Click each image to enlarge!
RELATED SECURITY SOFTWARE DOWNLOADS