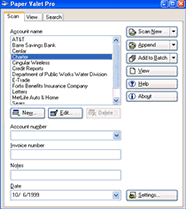 Paper Valet Pro


Award winning easy to use document management software.


Easily scan, categorize, store, search, and retrieve your documents digitally.

Quickly scan using your duplex scanner and customize the user interface to suit your needs.





Download Trial 4.95 MB
Software Information
System Requirements
Version:
2.1

Windows 9x/Me/NT/2000/XP/2003
TWAIN or WIA compatible scanner
Pentium class or equivalent or better
128 MB RAM

File Size:
4.95 MB
License:
Free to try, $44.95 to buy
Screenshot:
View Screenshot
Rating:
Key Features of Paper Valet Pro:
Searching and indexing.
Keywords recognized from scanned documents are indexed in a database that allows for quick access to them.
Duplex scanning.
Using your duplex scanner, get your scanning done in ½ the time. Automatically scan both sides of a double-sided page, producing two images at once. Regular scanners must scan double-sided pages by scanning one collated stack of paper, then flipping it over and scanning the other side.
Customizable of field labels.
Change the names of the field labels in the program to apply to your situation. The following field names can be customized: account name, account number, invoice number, and notes.
Creates and manages a document repository on your file system.
Documents are stored in a hierarchical structure under a folder called My Papers, which is filed under your My Documents folder. The location of the My Papers folder is fully configurable and you can even put your My Papers folder on a network drive for multi-user access.
Documents are filed by account and date.
New documents are assigned an account and date. Documents are stored under a folder with the account name, and optional account number. The document is filed under the account name using the date. The file name is configurable and can include the account name, account number, an invoice number, and the date.
Automates scanning by bypassing the TWAIN or WIA user interface.
Paper Valet Pro works with both TWAIN and WIA compliant scanners. Most applications provide their scanning functionality through your scanner driver's user interface. This user interface is generic and designed to be used with a wide variety of applications, yet it has many drawbacks: a dialog will pop up for each scan, the dialog can require an excess number of mouse clicks, and some do not remember your previous settings between scans. Paper Valet Pro bypasses the driver's user interface to speed up your scanning tasks.
Batch scan multiple documents.
Setup categorization information for multiple documents and then automatically scan them to the correct location. Load your scanner's document feeder and kick-off a batch scan. When the process completes, Paper Valet Pro will notify you with a marked tone.
A convenient explorer style view for browsing your documents.
Switch to the View tab to browse through your documents. The View tab is tied to the Scan tab so you can quickly browse to the last scanned document. The View tab lets you perform tasks like renaming documents, moving documents, and deleting documents without leaving the application.
A median filter for removing noise in black and white scans.
Enable this advanced noise filter to remove speckles while still preserving image details. The median filter works best with images scanned at 300 DPI or greater. In addition to cleaning up the noise, the median filter will also reduce the file size.
Documents are stored as multi-page TIFF or PDF files.
Documents are stored using the industry standard TIFF file format or PDF — the standard file format of the Internet. Both formats allow for one or more pages and the pages are encoded using either CCITT Group 4, LZW, or JPEG compression.
Integrated image viewer.
View your documents using the Paper Valet™ Pro integrated image viewer. As documents are scanned, they are displayed in the image viewer's window. You can click on a document in the View tab to display it in the image viewer. The image viewer has built-in anti-aliasing to produce a clear and sharp image.
Collate multi-page documents.
Double sided pages can easily be collated. After scanning one side, simply flip the pages over and reload them into your document feeder. Paper Valet Pro will prompt you to collate the pages after you've scanned all of them and the pages will be collated in the correct order.
Works with flatbed and document feeder scanners.
Paper Valet Pro detects if a document feeder is present and will use it if paper is loaded. If a feeder exists, but there is no paper in it, you'll be prompted to add paper or scan using the platen. For scanners with no document feeders, Paper Valet Pro adds an inter-page count down mechanism. When the timer counts down, the scanner will automatically start scanning the next page. This lets you replace pages on the platen without having to worry about clicking and typing. The timeout is configurable and there's also a pause button available.
Add a note to your documents.
Enter any information that you would like to keep with the document. It will be embedded in the TIFF as tag data or in the PDF file as a subject.
No proprietary datastores.
Paper Valet Pro stores files on your file system, not in a proprietary database. Gain peace of mind knowing that you don't have to worry about your important documents being lost in a corrputed proprietary datastore.
Compatible with the one-touch scan button.
If your scanner has a one-touch scan button, press it to start Paper Valet Pro.
Post-processing of documents using any 3rd party application.
Paper Valet Pro lets you run any application after a document has scanned. You can specify the command-line arguments to the application including macros that expand to things like the document's location, the document name, and the account information.