AccelMan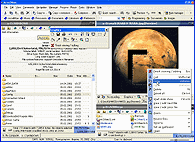 AccelMan is a multi-window file manager incorporating a file viewer, GUI console, media player, and bookmarks manager. In AccelMan you are not restricted to an obsolete dual-pane file manager interface – you can open as many managers as you wish and freely organize your environment on the AccelMan desktop. AccelMan is a unique multipurpose application. You can use it as a regular file manager, ACDSee-style image viewer, bookmark management tool, play-list editor, media player, functional GUI console, multi-file processor, SMTP mail client handling file attachments, ZIP archiver, PDF documents manager, hexadecimal editor and a lot more besides in one seamless, ergonomic environment.



Download Trial 4.72 MB
Software Information
System Requirements
Version:
2.7.3

Windows 2000/XP/2003 server
Internet Explorer 5.0 or higher
Pentium or similar processor
64 MB RAM

File Size:
4.72 MB
License:
Free to try, $38.95 to buy
Rating:
Key Features of AccelMan :
Graphics viewer -- The graphics viewer of AccelMan supports more than 30 formats and provides you with basic functions of image editing: brush, eraser, color picker, filler, etc.
Supported graphic formats -- jpg, bmp, gif, tiff, tga, psp, psd, png, eps, pdd, bw, rgb, rgba, sgi, sel, pic, sld, vst, icb, vda, win, pcx, pcc, scr, pcd, ppm, pgm, pbm, cut, rla, rpf, sff.
Play list manager -- AccelMan has a built-in multimedia player and a rich set of tools for play list management.
Integrated multimedia player -- The integrated multimedia player of AccelMan supports more than 30 multimedia formats. Through the Windows MCI interface you can extend the functionality of AccelMan and add new audio and video formats.
Powerful filemanager -- The AccelMan Filemanager provides you with all standard file operations (copying, moving, etc.) and a lot of innovative extras.
Windows Explorer replacement -- AccelMan is tightly integrated with Windows shell. You can use shell context menus, setup and edit file associations, setup wallpaper for the desktop, use an extended Send-To menu, create shortcuts, and work with network neighborhood.
TrueType fonts viewer -- AccelMan has a customizable TrueType fonts viewer. You can easily install a viewed font without using Control Panel. This unique feature is absent in popular managers.
JPEG, TIFF, GIF, PNG viewer -- The AccelMan viewer can display JPEG, TIFF, TGA, Photoshop PSD, PaintShopPro PSP and other images.
NFO viewer and directory information option -- AccelMan automatically displays *.nfo, readme.* and others files, which may contain useful information about currently browsing folder.
Zip and Unzip utility -- AccelMan handles WinZip compatible zip archives like normal folders. You can add, extract, view or play files directly from archive.
Powerful file splitter -- Accelman's File splitter/combiner works in two modes: binary and safe. In the safe mode, AccelMan writes special information to fragments which guarantees proper combining of these fragments. Binary splitting may be useful when you transfer files to a computer where AccelMan is not installed.
Hexadecimal editor -- The Hexadecimal editor in AccelMan helps you edit files of any type. It displays bytes offset and hexadecimal codes of each byte in a file.
MS Office and PDF documents manager -- If you have installed MS Office Applications, the AccelMan viewer is able to handle all MS Office documents.
Improved navigation system -- The Accelamn navigation system includes bookmarks, history lists, navigation lists, search results tree, quick drives toolbars in each file manager window, an improved Send-To menu, and more.
Batch operations -- With the AccelMan Batch operations feature you can rename, move or copy a group of files applying common rules. AccelMan controls file names duplication and provides you with a set of templates for name generation.
More Screenshots - Click each image to enlarge!