PanHandler DirectX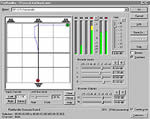 The PanHandler DirectX is a surround panner and LCRS encoder DirectX Plug-in for use with Stereo Audio editors such as Sound Forge, and WaveLab. It's a tool for real-time surround sound panning and encoding. It allows the production of multi-dimensional sound tracks for multimedia, video, video games, television, radio adspots, and many other applications.

Bring your project's soundtrack to life with the same surround sound encoding used in theaters and home theater systems. Fly-bys, precise stereo imaging and mix automation are as easy as dragging your "pan point" from one side of the PanHandler's window to another! Once you have produced a stereo soundtrack encoded for surround sound with the PanHandler, it can be accurately played back with any surround sound decoder or receiver. If played back with normal stereo equipment, the soundtrack will still have a wider sound with excellent imaging.
Now the PanHandler can be used from inside Sound Forge and Wave Lab and other Two Track DirectX-compatible audio software! Due to the nature of DirectX. The PanHandler doesn't work in Multi-Channel Applications like Cakewalk Pro Audio, SAW32/SAWPRO, and Cubase VST. Also it doesn't work well in Cool Edit Pro (CEP uses very large buffers which make real-time panning difficult).
Dolby matrix encoding is used to convey four channels (Left, Centre, Right and Surround, or LCRS) over a two-channel (STEREO) medium. In order to actually hear the intended effect you should be monitoring through a Dolby Pro Logic receiver. The plug-ins can be used on STEREO sound files within a STEREO mix. This mix can then be played back on a Dolby Pro Logic Receiver. These plug-ins are not for 5.1 surround sound.
These plug-ins are not meant to use on the entire mix, but rather on individual sounds, ie. flyby sound effects, or a car coming from the rear to front etc... Film sound tracks (and some television ones) go beyond just Left-Right Stereo; there is a Center Channel for the dialogue, and one "Surround Sound" channel but most decoders have two surround speakers. The Surround channel is used to project the sound out into the theater, to "surround" the audience. This is to enhance the illusion of being "in the picture".



Download Now 1.48 MB
Software Information
System Requirements
Version:
1.6

Windows 98 or WinNT 4.0, and WinXP
Pentium II CPU
64 MB RAM

License:
Free to try, $99.95 to buy
Rating :
Key Features of PanHandler DirectX :
Four-channel Surround encoding
Four-way completely automated surround panner using a mouse
Overall frequency response: 20 Hz-20 kHz (L, C, and R inputs) 100 Hz-7kHz (Surround input) at 44.1k SR
Realtime surround sound panning
Built-in Surround Sound encoder
Simple and intuitive interface
Total automated system design
Surround and mono compatibility function
Input panning movements by mouse
Master surround encoder input and output volume controls
LED Meters for monitoring the surround encoder's input and output volumes
No waiting to hear the result...
No extra files generated...
No patch cables...
and No renting expensive equipment.