OpenAria FilterNet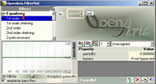 Using an intuitive drag-and-drop user interface, you run filters in series, in parallel, split channels for independent processing, create feedback filters of arbitrary complexity, ...
FilterNet comes with a rich set of filter elements. There are many flavors of first and second order equalizers, a reverb and mutli-tap delays. But the most powerful features are the various filter structures into which you place the filter elements. For example, there is the crossfeed filter which feedbacks the left channel signal into the right, and vice versa. The serial-parallel structure connects filters in series, while each filter provides an output tap that is summed for the final output. The possibilities are endless.

Because FilterNet itself is a DirectX host, you can use your existing plugins to create effects of your dream. FilterNet treats a DirectX plugin as just another element.
FilterNet uses 32-bit floating point processing and is fully optimized for speed for the Intel Pentium III processors and above, and the AMD Athlon processors enabled with the SIMD/SSE feature.
All parameters are MIDI controllable.



Download Trial 2.83 MB
Software Information
System Requirements
Version:
2.1

Windows 98/ME/NT/2000/XP
Pentium II CPU
64 MB RAM

File Size:
2.83 MB
License:
Free to try, $85.00 to buy
Screenshot:
View Screenshot
Rating :

Key Features of OpenAria FilterNet :

FilterNet includes a rich set of built-in elements. Each element is a fully tunable audio processing unit in its own right (and often a separate product in other commercial DirectX plugins.)
Equalizers
1st order, high and low pass
1st order shelving, high and low pass
2nd order, high, low, band pass and band stop
2nd order shelving, high and low pass
2-Pole resonant
Peaking
Butterworth, high, low, band pass and band stop, even order from 2 to 12
4-Band graphics+ filter structure:

Signal is split into 4 bands.
Each band is a peaking filter with adjustable center frequency, gain, and bandwidth.
Filtered signal is fed into your filter design.
The 4 bands are summed

Effects
Reverb
Delay with feedback and modulated delay time
The delay filter is used for building popular effects such as chorus, flangers, and vibratos.
4- and 8-tap delay structure:

Each of the 4 or 8 taps is individually modulated.
The modulated output of each tap is passed to a filter you specified.
The results are summed.

Feedback structure:
Feedback structure:

Simple yet powerful. You can create very complex resonant patterns by placing different filter chains in the structure.

Crossfeed structure:

The input is split into the left and right channel.
Each channel is fed to a filter of your choice.
The output of one channel is scaled and mixed with the input of the other channel as the input of the filter.

Utility Structures
Wet/dry mixer:

The input (dry) signal and the output of your filter are mixed according to a wet level ratio.

Splitter/Panner:

The input is split into the left and right channel.
Each channel is fed a filter of your choice.
The two filtered signals are merged back to stereo and panned in one of 3 ways.

2- and 4-parallel structure:

The input is multiplexed 2 or 4 ways.
Each copy of the input is fed to a filter of your design.
The output from each is summed.

4- and 8-serial-parallel structure:

The input is processed in-series through each filter in the slots.
Between each stage, a scaled output branch is tapped as part of the output signal sum.

DirectX Plugins
You can freely mix and connect the built-in filters with other DirectX plugins that you have installed in your system. However, DirectX elements cannot be placed inside a feedback structure.
Full support for plugin preset saving and loading.
MIDI
MIDI controller can be user assigned or automatically assigned by the system.
You can easily use high resolution controllers with non-registered parameter numbers (NRPN).
User-modifiable parameter range to allow precise scaling of controller values.
You can control multiple parameters with one MIDI controller by assigning the same controller to multiple parameters.