Multi Project Planner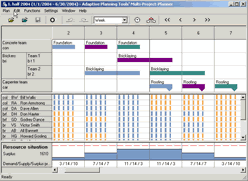 Multiple concurrent projects competing for shared resources is at the very focus of Multi-Project-Planner.
The project activities are booked on a schedule, common to all work teams, participating in the projects.
The main purpose of the program is to assist the operating management in the scheduling task and the handling of daily exceptions.
I.e. the Gantt charts of the projects are superimposed upon the common schedule, where each row represents a work team.
This way both resource allocation and the interrelationships between the activities are handled in one and the same view.A feature called 'Hot potatoes' lets the system keep track of all the loose ends and little things while you concentrate on the planning issues at large or on a single issue at a time. Employees can be automaticaly allocated to work teams based on competencies and avaliability. Template projects can be formulated and dropped on the schedule several times. Just in time planning is possible using template projects and the "Best Fit Monitor". Decision points can be attached to each project activity. They will raise a flag when due.
Look and feel of the familiar planning board.
Interoperability through integrated web server.




Software Information
System Requirements
Version:
2.10

Windows NT, 2000 and XP
Pentium or similar processor
64MB RAM

File Size:
3.84 MB
License:
Free to try, $148.00 to buy
Screenshot:
View Screenshot
Rating:
Multi Project Planner's Features:
Solve resource conflicts on the spot using brute force if needed, or leave them to be solved later by using hot potatoes.
Template projects lets you schedule predefined projects simply by dragging them onto the schedule.
Just In Time scheduling by letting the system keep track of the best fit while dragging projects or templates along the schedule.
Decision points attached to project activities.
Automatic resource allocation.
Timescaled PERT charts.
Or use it as a simple Gantt chart drawing tool. Follow the link to see how.
Extendability, i.e. enhancing features by adding modules.
Interoperability, i.e. integration with other software.