Work Order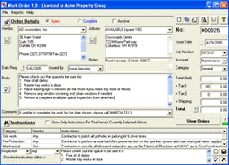 If your company issues work orders to outside contractors, our program can save you time and money! Flexible, easy to operate, single or multi-user. Our program does not force you to conform to any pre-determined format. You simply type in the instructions you wish to issue, in whatever manner works for you. It is based on custom applications we have made for clients in commercial real estate management, but made flexible enough to be used in virtually any industry.
Do virtually all your work on a single computer screen "form" - no switching back and forth between different windows. If you've been wanting to get away from using pre-printed forms or individual "letter-type" orders, but haven't been able to find any reasonably priced software, this is the answer.




Download Trial 3.97MB
Software Information
System Requirements
Version:
1.0

Windows 9x/Me/NT/2000/XP
Pentium or similar processor
Internet Explorer 4.0 or later
32MB RAM

File Size:
3.97 MB
License:
Free to try, $119.00 to buy
Screenshot:
View Screenshot
Rating:
Work Order Features:
Allows you to build a database of "standard instructions" - stock text that you regularly include in orders. Simply double-click any item and it is instantly added to your document. Items can be added "on-the-fly", so you can start being productive right away!
Build the complete order instructions by any combination of typed-in and standard instruction, then spell-check it all before saving.
Stores all your vendor and jobsite addresses (including warranty notes) for re-use. You only need to type them in one time; from then on out you simply select from a drop-down list. If you are using our "ShareCon" name & address program, Work Order will even use it's data directly! It also automatically stores misc. info such as issuer names, job numbers, account numbers and more in easy to use drop-down lists.
Allows you to handle costs exactly the way you want to. You can elect whether or not to show costs on the order based on it's status (Open or Complete), and whether or not to require final costs on completed orders. It's also up to you whether or not to break costs down by net, taxes, and shipping changes, or to simply use a lump sum.
Saved orders can always be recalled later on for re-printing, general reference, or to be copied and used as the basis for similar new orders. The Saved Order list can be sorted by number, issuer, job number, account, category, vendor, jobsite, date required, or amount with one mouse click; no more rooting through file cabinets to find things!
Includes two tax fields to accommodate Canadian GST and PST (or other systems). Both tax fields can be re-named to suit local practice.
Customize the appearance or orders by changing the font, an/or adding your own company logo graphic.
Sends your documents as great-looking .html formatted email. Your vendors see exactly what you see within the program - no attachments!
Work Order can either be installed on a single machine and store it's data locally, or installed on multiple machines and use a shared data directory (multiple users in the same data at the same time).
The program may be freely evaluated for fifty uses, to make sure it meets your requirements.