MPEG Encoder - MPEG-1 MPEG-2 Encoder
Encode video to MPEG, input AVI, WMV, MPEG-1, MPEG-2, and output MPEG-1 or MPEG-2.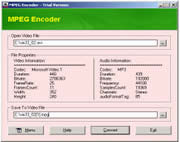 MPEG Encoder is an encoding tool that can encodes video files from AVI, MPEG, WMV format to MPEG format (supports MPEG-1 and MPEG-2).

The MPEG format features better video quality, higher compression, and gives users better vision feeling.

The MPEG-1 is used for Video CD (VCD) burning. And the MPEG-2 is used for Super Video CD (SVCD) and Video DVD burning.





Software Information
System Requirements
File Size:
6.22 MB

Windows 8/7/XP/Vista
Pentium II CPU
512 MB RAM

License:
Free to try, $35.95 to buy
Screenshot:
View Screenshot
Rating :
Key Features of MPEG Encoder :
Encode to MPEG-1
Encode to MPEG-2
Input from MPEG
Input from AVI
Input from WMV
Support templates
Support parameters
High converting speed
Good output quality
Easy to use interfaces
MPEG Encoder supports the following template list:
MPEG Manual Settings
VCD NTSC 29.97 fps CBR 350X240
VCD NTSC film 23.976 fps CBR 350X240
VCD PAL 25 fps CBR 352X288
SVCD NTSC 29.97 fps 480X480
SVCD NTSC film 23.976 fps 480X480
SVCD PAL 25 fps 580X576
DVD NTSC 4:3 29.97 fps 720X480
DVD NTSC 4:3 29.97 fps 704X480
DVD NTSC 4:3 29.97 fps 352X480
DVD NTSC 4:3 29.97 fps 352X240
DVD NTSC 16:9 29.97 fps 720X480
DVD NTSC 16:9 29.97 fps 704X480
DVD NTSC 16:9 29.97 fps 352X480
DVD NTSC 16:9 29.97 fps 352X240
DVD PAL 4:3 25 fps 720X576
DVD PAL 4:3 25 fps 704X576
DVD PAL 4:3 25 fps 352X576
DVD PAL 4:3 25 fps 352X288
DVD PAL 16:9 25 fps 720X576
DVD PAL 16:9 25 fps 704X576
DVD PAL 16:9 25 fps 352X576
DVD PAL 16:9 25 fps 352X288
RELATED MPEG WMA SOFTWARE DOWNLOADS