Mac SWF to FLA Converter - Convert SWF to FLA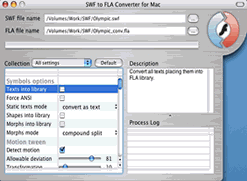 Mac SWF to FLA Converter for Macintosh help Flash designers convert Macromedia Flash SWF files back into FLA format in one click.
It offers a number of unique algorithms to extract all Flash objects from SWF file and store them in a FLA file, which can be edited in native Flash environment. Every group of objects such as morphs, shapes, texts, fonts, motions, sounds, ActionScripts, etc. could be placed in separate FLA library groups, which makes using and viewing the resulting FLA file much easier. Additionally, you may customize FLA file workspace by enabling/disabling guides, grids, rulers; specify guides accuracy and so on. Every morph or shape can be placed on different layers to make sure that masks layers are working properly.
Mac SWF to FLA Converter is the only Mac OS tool to export the whole SWF movie in FLA format that supports Flash MX and ActionScript 2.0.
Software Information
System Requirements
Version:
1.1

Platforms "SWF to Fla Converter for Macintosh" is compatible with:
Mac OS X 10.4 - 10.8 and higher

File Size:
15.80 MB
License:
Free to try, $59.95 to buy
Screenshot:
View Screenshot
Rating:
Why you may need SWF to FLA Converter for Mac OS X:
Restore your original FLA file from SWF in case you have lost it
No matter how sadly it is to say, but nobody is protected from human errors and hardware faults. In case you should ever lose your original FLA files you may easily restore them from available SWF files using Eltima's SWF to FLA Converter for Mac, thereby saving you time and efforts to develop or modify your Flash movies.
Make changes to SWF file when you don't have its source code (original FLA file)
Once your artwork is converted to SWF file it cannot be edited in Macromedia Flash Studio (the same as with executable files). To be able to make changes to SWF you must have its original source code. Eltima's SWF to FLA Converter for Mac OS allows you to extract all resources from SWF and save them in FLA file which is editable. Now, you can easily change Flash objects (modify text or hyperlink, replace sound/image, etc.) and convert it back to SWF file.
Modify protected SWF file
If you forgot the password to your SWF file it is not a problem any longer. SWF to FLA Converter bypasses this protection mechanism while decompiling SWF file resources. Once you have converted it to FLA you can set new protection in your favorite Flash editor. Please, note that some SWF files may be copyrighted.
Improve your designer's skills by learning from others
Rather than trying duplicate or reinvent dazzling animation effects you may find on the net, you may pick into the SWF source code (FLA) to find out how exactly those effects were created and achieve greater results you can't even think of.
Mac SWF to FLA Converter Full features list:
Unique SWF to Fla Converter for Mac OS.
Unique SWF conversion algorithms makes this program the most reliable and fastest way to restore Flash objects from SWF.
Mac SWF to FLA Converter offers Expert and Simple program interfaces for your convenience.
Over 50 options available to extract sounds, images, videos, shapes, frames, morphs, fonts, texts, buttons, sprites and ActionScripts with the great accuracy.
Provides ability to extract every object into a separate layer.
Group SWF objects (text/motion/sound/ActionScripts, etc.) into a separate library entry for better representation.
Specify folder's name for each FLA library.
Sophisticated morphs conversion algorithms are supported to ensure that all frames are correctly extracted.
Extract Flash objects from protected SWF files.
Customize resulting FLA project to suite your needs (enable/disable grids, guides, advanced snapping options, etc.)
On-screen detailed conversion parameters description.
Professionally selected default conversion settings helps you achieve the best results.
Heuristic method to fix the bug with MacRoman encoding in Mac OS X 10.3 version guarantees that all text objects are converted properly.
Resolves the bug with text encoding in Macromedia Flash files for Mac OS when correct character map is absent (convert as text or as shape).
Easy-to-use interface with intellectual, fully customizable controls.