DigitalWeb InstallWizard XP 2005 (BASIC PACK)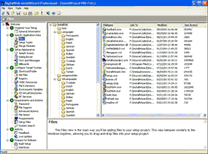 InstallWizard has been designed to make creating a professional-quality installation faster and easier than ever before,

while still providing the features you need most. Main features includes very simple wizard interface, Quick registry key creation, Full install and uninstall support, Self-registering OCX/OCB/DLL/EXE support, Customizable user interface,Disk build options including a Custom Size option,Single-file, self-extracting .EXE option and more.



Software Information
System Requirements
Version:
5.0

Win95/98/ME/NT/2000/XP/2003/.NET 2003

Pentium processor

File Size:
7.08 MB
License:
Free to try, $89.00 USD to buy
Screenshot:
View Screenshot
Rating:
DigitalWeb InstallWizard XP 2005 (BASIC PACK) Features:
The fastest way to create an installation
Very simple wizard interface, design and modify your setup without writing a single line of code! Create your installation in 1 minute.
Internationalization with language support
Choose one of 10 languages when starting a project. Plus, dialog text can be exported for translation into any language - even double-byte languages. German, Chinese, Polish, English, Portuguese, Spanish, Italian, Swedish, Croatian, Serbian and Dutch.
Also features ANSI,UNICODE double-characters for Chinese and more!

Windows Installer
The Windows Installer service allows setup authors to provide installation benefits such as application auto-repair, install on demand, rollback after a failed installation, reduced file conflicts, and more. InstallWizard Professioanl is an economical solution enabling users to leverage these Windows Installer benefits, without learning all the details of the technology. InstallWizard provides an intuitive interface that requires no direct table editing or scripting.
Serial Validation OR Serial Activation by Internet
Include DigitalWeb Serial Validator + Serial Number Generator!
Also DigitalWeb introduces Serial Activation by Internet!
IIS Virtual Directories
Use the IIS Virtual Directories view to create virtual directories on the target system at installation time. Internet Information Services (IIS) is a Web server developed by Microsoft and is included with Windows 2000 and Windows XP operating systems. *Works only when IIS is installed on the target machine.
NT Services
Creates a service object and installs it in the service control manager database by creating a key with the same name as the service.
File Action
Add your custom executable or DLL file to create a custom action for your installation. These actions can be used for anything from displaying a readme file to deleting registry entries. It is possible to get the HANDLE of installation and access everything to customize your installation.
File Support
Allow you to create your personal list of 3rd party software. The 3rd party software can be downloaded directly from File Support view.
Setup Files
Allows you to add files that are installed to the target system for use only during the installation process. These files are automatically removed from the target system when the installation is complete.
System Search
The System Search provides the Windows Installer capability to search for a particular file, folder, Registry Key or .ini value on a target system prior to installation.
Distribute
When your setup is built and tested the only task left is to distribute it to a specified location. You can either distribute your setup to a local or network location or to an FTP site in the Distribute view.
LiveUpdate
Allow your users to easily verify and update your software. InstallWizard LiveUpdate verify version, download patch and install. Liveupdate also verify software SerialNumber in your website to verify the origin of your application. Everything with a click.
FeedBack
Allow your users to easily send feedback about your software. InstallWizard FeedBack automatically send users comments to your email. Everything with a click. All buttons can be configured.
Advanced Actions
You can verify for running applications, installed softwares or if some file exists and take some action, like: Show Messages, Close application, run some application!
.NET Framework
With a single click InstallWizard can install .NET Framework. Or if necessary, InstallWizard can detect .NET Framework and take some action, like download, run or show some message.
And more...
More Screenshots - Click each image to enlarge!