How to Remove Drm from WMV files?


DRM is an acronym for Digital Rights Management, a broad term used to describe a number of techniques for restricting the free use and transfer of digital content.

To remove DRM (Digital Rights Management) features from a WMV file, you will need a drm remover software that plays the WMV file and re-records it in another format. using the latest version of Tunebite you can now also remove DRM from WMV (Windows Media Video) files. Use Tunebite to instantly record the movies and record them back without DRM. The easiest and quickest solution to remove DRM from WMV files.

Simply import your DRM protected WMA and M4P files into Tunebite. Tunebite then plays them with Windows MediaPlayer or Apple iTunes, records them lightening-fast using High-Speed Digital Dubbing and automatically saves them as unprotected MP3, WMA or OGG audio files and MPEG4, unprotected WMV, MP4 video files.


Here is For full Step-By-Step instructions to removing DRM from .wmv files:
1. Install and Launch the Tunebite, follow the configuration wizard step-by-step to config the sound card and high-speed digital recording.

2. Select the output audio and video formats you like.

Hints:
1) Supports converting to MP3, WMA and OGG music files. If there is no MP3 encoder on your PC, please download it here and import lame_enc.dll into the program.

2) Support recording to WMV and MPEG4 (MP4) video files. Check "record video, when original music file contains video" and click "Next" to select the output movie format you like from "WMV" or "MPEG4" (Playable on Apple iPod, MS Zune, Sony PSP, MP4 player).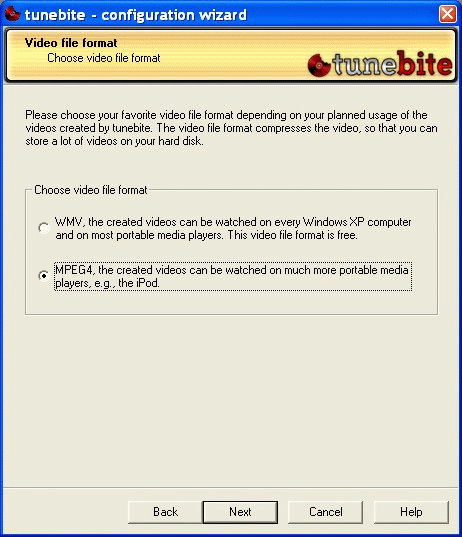 3. Click "Add" button or drag WMV file(s) that you'd like to remove Drm protection to the main interface. Record to unprotected WMV or MP4 by clicking "GO" button.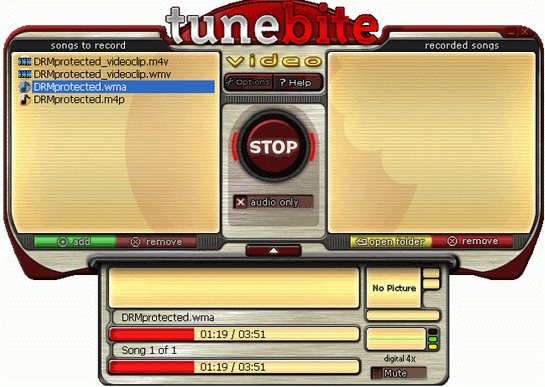 After removing Drm from WMV and save as MP4 or WMV files,
OK. You will complete to remove drm from WMV or/and MP4 files.
you can convert the output files to MPEG, 3GP, AVI, MOV, RM, DivX or more formats with Video Converter. Just free download the Tunebite to remove drm from WMV or/and MP4 files formats.



Related Article:
How to convert M4P files from Apple's iTunes store that are DRM protected to MP3.
How to convert DRM video clips like WMA, M4P, M4B, M4V, iTunes files
Guide to Record LP to CD and Record Tape to CD
M4P Converter Tutorials - Convert M4P to MP3, M4P to AAC, M4P to WMA
M4B Converter Tutorials - Convert M4B to MP3
ePreserver - Convert AOL Address Book, email, and Favorite Places
Itunes to MP3 Converter - Convert Itunes to MP3