Greensy in the wabe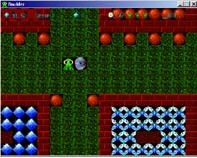 Greensy in the wabe is arcade game like fun thinking games such as Boulder Dash, Supaplex and Digger. Greensy is a remake of the Boulder Dash game with many new features. There are also mysterious butterflies, flame, water balls and magma that increases as it wishes, and something else: On levels you're going to met various dangers. 100 Levels and a level editor are included. Try to play and you will understand quickly the rules of this interesting game!






Software Information
System Requirements
Genre:
Puzzle

DirectX 7.0 or higher
Windows 8/7/XP/Vista
Processor 200 MHz or higher
512 MB RAM
10 MB free disk space
Sound card - optional

File Size:
1.34 MB
License:
Free to try, $10.00 to buy
Rating :
Benefits of a registered version are great!
You are allowed to use your copy without restrictions of starts.
There are 100 levels insted of only 20.
All features are unlocked in the builder and game. This means that you can finally play the levels you have created!
You can play your own levels or ones found on the Internet(eg. at website of a game homepage).
Finally see all objects in action! Fire, Nuts and Water Ball are not found in the shareware rooms.
The reminder about of the program registration doesn't pop up every time you quit the game.
You are supporting the shareware concept of try-before-buy.