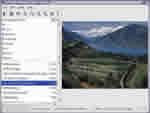 GQview

GQview is an image viewer for Unix operating systems (developed on Linux). It's key features include single click file viewing, external editor support, thumbnail preview, and zoom features. Some image management features are also included.




Download Trial 1.47 MB
Software Information
System Requirements
Version:
2.1.1

GTK 2.4 GTK's homepage (FTP site)
libpng (only needed by GQview releases older than 2.0.0)

Screenshot:
View Screenshot
Download Size:
1.47 MB
Rating :
GQview Features:
Thumbnail list display.
Thumbnails can be cached to disk for faster subsequent loads.
One click file selection.
Zoom in, out, and fit to window.
Slideshow.
Mode that zoom reverts to on a new image can be configured.
File filtering options.
Supports most file types if the libraries are available on the system.
Basic file operations (create directory, copy, move, rename, and delete).
Drag and drop.
Can open a file in an external program (customizable).
Tab completion in most path entry areas.
.xvpics thumbnail read-only support.
Collections (file lists).
Search utility.
Find duplicates based on file attributes or image content.
Full screen viewing.
Program remains responsive at all times, image loading can be interrupted.
Internationalization, includes translations for many languages (see README).
EXIF support.
Printing, including proof sheets.
Can attach keywords and comments to images.
Supports the Thumbnail managing standard.
Command line control of existing GQview process.
More Screenshots - Click each image to enlarge!