SUSE LINUX Professional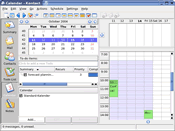 SUSE LINUX Professional 9.2 from Novell combines a fast, secure operating system and more than 1,000 popular open source applications. It is the first complete Linux package to harness both the improved Linux kernel 2.6 and the recently enhanced GNOME 2.6 and KDE 3.3 user desktop environments.
Ideal for Linux users and technical enthusiasts, SUSE LINUX Professional 9.2 improves support for mobile users and delivers a host of essential tools. Wherever you go, you can use it to browse the Web, create and share documents, work with graphics and multimedia files, configure home networks and develop applications. And if you are considering deploying Linux in your business, SUSE LINUX Professional 9.2 gives you an exciting preview of upcoming open source technologies, many of which will soon be avilable in enterprise Linux products from Novell. For a quick comparison of SUSE LINUX Professional 9.2 and SUSE LINUX Enterprise Server 9, visit http://www.novell.com/products/linuxprofessional/comparative.html.



Download Frial Trial From: http://download.novell.com/index.jsp?sourceidint=hdr_download




Software Information
System Requirements
Version:
9.2

Processor: Pentium® 1-4; AMD® Duron, Athlon™, Athlon XP, Athlon MP or Athlon 64; Intel® Celeron or EM64T
Main memory: At least 128 MB; 256 MB recommended
Hard disk: At least 500 MB; 2.5 GB recommended for standard system

File Size:
6.32 MB
License:
Free to try, $89.95 to buy
Screenshot:
View Screenshot
Rating :
SUSE LINUX Professional Features:
SuperTux
Tux's friend Penny has been kidnapped! In this jump-and-run game, you help Tux cross the Antarctic to rescue Penny. With 50 levels, 3-D acceleration and enchanting music, SuperTux is sure to please
Freeciv
Lead your civilization to success! Your goal is to be the first to reach the closest star system, Alpha Centauri, and eliminate your opponents in the process. FreeCiv can be played on the local host, with friends in the local network or via the Internet.
Frozen Bubble
The aim in Frozen Bubble is to destroy colorful bubbles as quickly as possible. In the two-player mode, you can match your skills with another player. Excellent graphics and superb sound round off this truly addictive game.
Enigma
Let Enigma take you to the wonderful world of Oxyd stones. Equipped with a black marble, you search the landscapes for all existing Oxyd stones. Overcoming obstacles often requires a lot of dexterity and wit. More than 100 different landscapes guarantee endless hours of fun.
Wesnoth
The "Battle for Wesnoth" is a turn-based strategy game. The aim is to gain control of villages and settlements. Various scenarios and first-class graphics promise many hours of entertainment.
GNOME 2.6
Users of SUSE LINUX Professional 9.2 will benefit from the hundreds of bug fixes and usability improvements in GNOME 2.6. Its new file manager offers users a more intuitive and more responsive interface, reducing the learning curve for moving to Linux. Its new spatial navigation helps users easily find files and folders. The enhanced "Computer" location provides quick access to local and network drives. Other usability improvements include consistent file dialogs and a keyboard preferences editor.
KDE 3.3 connectivity
SUSE LINUX Professional 9.2 contains the newest release—version 3.3—of the easy-to-use KDE desktop environment. This latest version of KDE impresses with a host of applications and enhancements. It includes over 400 diverse applications, including programs for administration, multimedia, games, development and networking.
Inkscape
Inkscape is the new fully XML-, SVG- and CSS2-compliant drawing tool. With origins from the Sodipodi project, Inkscape supports basic shapes, paths, text, alpha blending, transforms, gradients, node editing, svg-to-png converting, grouping and other useful features. Inkscape is perfect for creating maps, technical diagrams, logos, icons and much more.
Digikam
Compatible with most digital cameras, digikam manages digital photographs and ensures a smooth transfer between the camera and the PC
Scribus
Scribus 1.2, the fully functional desktop-publishing application for Linux, offers several improvements over prior versions: this latest version has a new EPS/PS importer. Additionally, with CMYK separation rendering, transparency and UCR, you'll have a true PostScript-generated page preview.
Mobility
SUSE LINUX Professional 9.2 makes it easy to use Linux on laptops. For optimum performance, SUSE LINUX supports the most popular chipsets, including Intel Centrino. It offers Bluetooth* wireless support, including automatic recognition of Bluetooth-enabled devices via the YaST central configuration and administration tool. For busy mobile users, it supports quick and easy access to wireless networks.
Rekall
Tool supports MySQL, PostgreSQL, XBase and IBM DB2 databases, as well as many others via Open DataBase Connectivity (ODBC). Rekall also supports Python-based scripting. Finally, Rekall offers users a familiar interface—similar to that of Microsoft Access—and it facilitates the implementation of database applications on the basis of forms and reports.
TextMaker and PlanMaker
SUSE LINUX Professional delivers exclusive access to the full, Linux versions of TextMaker and PlanMaker.
Kooka
Kooka is an easy-to-use scanning application providing a wealth of features. Among the most advanced of these are automatic integration of a fast OCR program, which can recognize handwriting, and integration of a dictionary for checking the recognized text.
MainActor
MainActor 5 is an easy-to-use video-editing program. Save your recordings from analog or digital cameras on your hard disk and process them with filter, slow-motion, cross-fading and text-insertion tools. MainActor now offers full MPEG2 and FireWire support.
AmaroK
AmaroK is the KDE audio player that makes it as easy as possible for you to play the music you love. Simply drag and drop your favorite songs into the central playlist window, and start enjoying your music.
Kaffeine
Kaffeine is an intuitive graphical multimedia application. Together with Xine, Kaffeine is able to play a variety of video formats, including unencrypted DVDs.
Kooka
Kooka is an easy-to-use scanning application providing a wealth of features. Among the most advanced of these are automatic integration of a fast OCR program, which can recognize handwriting, and integration of a dictionary for checking the recognized text.
More Screenshots - Click each image to enlarge!