ExamDiff Pro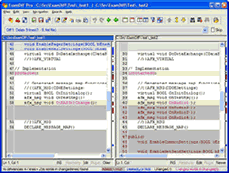 When you need to compare files or folders, no tool is more powerful and easy-to-use than ExamDiff Pro! Whether you want to synchronize two directories, compare two versions of your documents, or figure out what bytes got changed in a Windows DLL, ExamDiff Pro will get the job done.
ExamDiff Pro is a powerful yet intuitive and easy to use visual file and directory comparison tool for Windows. It allows you to visually compare text and binary files and directories, highlight differences down to the level of words or characters in changed lines and allow editing files within comparison panes. It also allows recursive directory comparison, creating directory snapshots for later comparison, performs synchronous word wrapping of long lines and automatically detects file or directory changes and prompts the user to re-compare, or can re-compare automatically.



Download Trial 2.91 MB
Software Information
System Requirements
Version:
build 3.5.1.3

Windows 98/Me/NT/2000/XP/2003/Vista
Pentium or similar processor
64MB RAM

File Size:
2.91 MB
License:
Free to try, $35.00 to buy
Screenshot:
View Screenshot
Rating:
ExamDiff Pro Features:
Compares text files, binary files, and directories.
Highlights differences down to the level of lines, words or characters.
Allows editing files within file comparison panes.
Prints and print previews diff reports.
Includes full Unicode support.
Allows creating directory snapshots for later comparison.
Provides plug-in mechanism that allows preprocessing files before comparing them.
Performs synchronous and simple word wrapping of long lines.
Remembers a user-specified number of last compared first and second files or directories.
There is no need to specify both filenames - just enter a directory name for one of the files to be compared. EximDiff will attempt to use an entered filename with a previously specified directory name for the second file.
Automatically detects file or directory changes and prompts the user to re-compare.
One push re-compare function attempts to leave the viewer's focus in the same place as before the re-compare.
Drag and drop support for dropping one or two files or directories into the program's window (e.g. from Windows Explorer) for comparison.
Allows file or directory comparison from the directory comparison panes with a simple double-click on one of the files or directories to be compared.
Allows the copying, renaming, and deleting files or directories from the directory comparison panes via menu, toolbar buttons, or a right button pop up. Any of these operations is followed by automatic re-synchronization of the compared directories. You can also sort directories in the left or the right pane by name, size, type, or last modification time without losing synchronization.
Easy editing of files. ExamDiff Pro will spawn any editor (configurable by the user) with the file name and caret position options.
Saves the differences in a file (standard UNIX DIFF file for file comparison).
Easy navigation through the differences via "Next Difference"/ "Current Difference"/"Previous Difference" buttons and hot keys or via a list box of all the differences.
Allows the copying of text from the file comparison panes via drag and drop, a hot key, or a right button pop up.
Simple "Search" command to search for strings in the comparison panes. It also remembers a user specified number of most recent searches.
Customizable colors.
Fully customizable file extension filter. For example, the user can choose only .c and .cpp files or any other files he/she chooses to be displayed.
Tooltips which include file or directory properties (when the mouse cursor is placed over the pane title bars), difference number (when the cursor is over the yellow triangle marking the current difference), and etc.
Adjustable pane splitter with smooth synchronized scrolling.
Allows easy toggling between horizontal and vertical splitter orientation as well as splitter centering and hiding of panes.
Extensive command line interface.