ECMerge Pro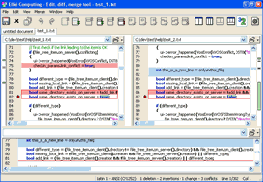 ECMerge is a powerful utility for merging text files and synchronizing folders visually. ECMerge provides syntax colouring for C/C++, Java, XML, HTML, ASP, PHP, Visual Basic, SQL and many others languages.
ECMerge compares and merges files and folders, side-by-side or 3-way.
It is designed for software engineers, web authors and other professionals who work with multiple revisions of text files or who need to keep multiple folder hierarchies in sync. Two text files or folders can be compared to a common ancestor: comparing entire source code branches can give assurance that every change introduced in a particular product release is known and understood.
Save your work at intermediate situation and restart it later (full comparison status saved)! Define favourite comparisons as templates to launch them in one click or with the command line.
ECMerge provides syntax colouring for C/C++, Java, HTML, ASP, PHP and many others. The integrated XML pretty-printing filter allows great comparisons for XML files, the equivalent output filter can compact the XML into one-line file. In-line differences are detected (at word and/or character level): Character differences are indicated with different colored text within displayed files. A security distance can be specified for 3-way file merges so as to attract user attention during risked merges. Ignore lines matching a regular expression. Generate Unix patches between files.
Recursively compare and synchronize trees of folders and files to find the differences both in file presence and file contents, works between local directories or networked computers (Windows/Linux/MacOS). Filter files/folders to be displayed in Folder comparison view, by name (regular expressions), or by status.
A shell extension is provided under Windows to select items to compare and launch ECMerge. Drag and drop of files/folders to be merged, list of recently used filenames.
Can be used as a replacement of many SCC own merge tool, for better display of changes and more efficient merges. A Standard version limited to side-by-side comparison exists. Also exist: A Linux version of ECMerge A bundle of ECMerge for all platforms (Windows and Linux)




Software Information
System Requirements
Version:
1.1

Windows 8/7/XP/Vista
Pentium or similar processor
512 MB RAM

File Size:
2.96 MB
License:
Free to try, $50.00 to buy
Screenshot:
View Screenshot
Rating:
ECMerge Pro Features:
Easy to use: ECMerge Pro highlights differences in side-by-side views and text blocks that are conflicting. Full undo/redo is provided. You can save your work at intermediate situations for text files as well as for folders.
Source code review: Compare source code to older versions and identify what has changed. Java, C#, C++, Visual Basic, Perl, PHP, Delphi, etc. Syntax colouring helps you to merge by avoiding typo errors.
Merge: Merge your changes and those of your co-workers based on a common ancestor into one copy. One-click to merge a block of text. Editable output. Unlimited undo/redo.
Folder comparison: Analyse differences between 2 or 3 folders hierarchies and synchronize them.
Compare and merge text, source code files, web pages.
Compare and synchronize folders.
Side-by-side or 3-way comparison (using a common ancestor).
XML text comparison, in-line differences.
Intuitive interface, many customizable options.
Syntax colouring for numerous languages.
Integrated with most famous SCM.
Integrated with Windows file explorer.