East-Tec-Eraser 2006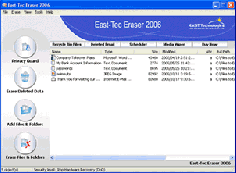 Protect your data and privacy and remove all evidence of your computer and online activity with East-Tec Eraser 2006

Eraser goes beyond U.S. Department of Defense standards for the permanent erasure of digital information and easily removes every trace of sensitive data from your computer. Completely destroy information stored without your knowledge or approval: Internet history, Web pages and pictures from sites visited on the Internet, unwanted cookies, chatroom conversations, deleted e-mail messages, temporary files, the Windows swap file, the Recycle Bin, previously deleted files, valuable corporate trade secrets, business plans, personal files, photos or confidential letters, etc.

East-Tec Eraser offers full support for popular browsers (Internet Explorer, Netscape Navigator, America Online, MSN Explorer, Opera), for Peer2Peer applications (Kazaa, Kazaa Lite, iMesh, Napster, Morpheus, Direct Connect, Limewire, Shareaza, etc.), and for other popular programs such as Windows Media Player, RealPlayer, Yahoo Messenger, ICQ, etc. Eraser has an intuitive interface and wizards that guide you through all the necessary steps needed to protect your privacy and sensitive information.




Software Information
System Requirements
Version:
7.0

Windows 8/7/XP/Vista
Pentium or similar processor
64 MB RAM

File Size:
2.84 MB
License:
Free to try, $39.95 to buy
Screenshot:
View Screenshot
Rating:
East-Tec-Eraser 2006 Features:
Completely eliminates sensitive data from your computer: valuable corporate trade secrets, business plans, personal files, confidential letters, e-mail messages, Web browser tracks, Peer2Peer activity.
Eraser introduces a new meaning for the verb TO ERASE: erasing a file now means wiping its contents beyond recovery, destroying its name and dates and finally removing it from disk.
Completely destroys any data from previously deleted files that might still be accessible on your hard disk, in the Recycle Bin or in the unused disk areas.
Integration with the Windows Recycle Bin: Eraser can destroy the files contained in the Recycle Bin beyond recovery.
Integration with the Windows shell. You can drag files and folders from Explorer and drop them in Eraser, or you can erase them directly from Explorer or My Computer, with a single mouse click.
Erases folder structures (folders with all their subfolders and files) and even entire drives.
Advanced features like verifying each wipe pass and each disk operation allow Eraser to intercept any failures and inform you if data is not successfully erased.
The command line parameters allow you to run Eraser from BAT files or from scheduling software such as SystemAgent.
Supports FAT12, FAT16, FAT32 and NTFS file systems, floppy, ZIP and Jaz drives.
More Screenshots - Click each image to enlarge!