Drumbeat 2.01 for Mac OS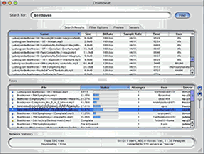 Drumbeat is simply the best File-Sharing program anywhere. We've made it easy to use -- even if you've never heard of an mp3!
But it's much more than just easy to use. Instead of trying to connect you to only one server, and then waiting forever to get on, Drumbeat lets you connect to all of them at the same time, automatically! Drumbeat Users have access to the shared files of now more than 800,000 people at any given time, over 450 Million Files, and more than 11 Petabytes (11 billion megabytes) of information! More than any other system. And we're growing every day!
Ever get frustrated by only getting 100 or 200 search results? Drumbeat never limits your search results. If your file's out there -- we'll find it! With Drumbeat you're not limited to Music files -- search for video, graphics, even applications. You can find any file you're looking for using Drumbeat!



Download Trial 4.91 MB
Software Information
System Requirements
Version:
2.0.1

Mac OS 9.0, or Mac OS 10.1 or higher.
PPC Processor.
Internet Explorer 5.0 or higher
48 MB RAM above System Requirements.
13 MB Hard Drive space.

File Size:
4.91 MB
License:
Free to try, $34.95 to buy
Screenshot:
View Screenshot
Rating:
New Features in Drumbeat 2.01:
• Deep Search
Groundlevel is extremely excited to introduce a completely new concept in File-Sharing: Deep Search scans deeper levels of online Users' Shared Folders than ever before, retrieving more than 5 times the search results of any currently available application, Mac or PC. In test results, Deep Search has so far achieved more than 25,000 results (did you actually read that?!) for popular search phrases, an increase of more than 250% over our already Record-Breaking Drumbeat 165. We think that ROCKS!!

• Blowfish DES Encryption For All Drumbeat Files
All Files exchanged between Drumbeat Users will now be Fully Encrypted before leaving the User's Hard Drive, and will be Unencrypted only after having arrived at the requesting user's HD, for full protection of all traffic between Drumbeat Users. Encrypted files are Unencrypted at the User's HD on-the-fly, so files will still be able to be Previewed while downloading. Encrypted files will show in Green in the Search Results window.

• Localized Versions
Drumbeat is now available in Ten Languages: Français, Italiano, Deutsch, Español, Nederlandse, Dansk, Svenska, Português, and English.

• Find-As-You-Type Filtering
How do you find your way through 25,000 results? Just start typing! DB now automatically filters all your search results, continually narrowing your search down to exactly the files you want. Find what you're looking for, and then filter again. And you never have to repeat that search again!

• CPU and Bandwidth Throttles
Users can now control how much of their CPU time is devoted to Drumbeat, and the amount of Bandwidth Drumbeat uses for Uploads and Downloads. Users may also select how much priority Drumbeat gives to the speed at which Server Connections are attempted and to the Buffer Size of all Socket Connections. (Some features OS X Only).

• Full-Featured Favorites List
The ability Add/Remove Favorite Users, more quickly see which Favorite Users are On/Offline, Ignore certain Users from future incoming Chat messages, and Drumbeat now retains a Full History of User interactions for the current session.

• Full Resume for Downloading Files
All Files in the Tasks List are now retained if the program is Closed, Quit, or otherwise interrupted unexpectedly. The Tasks List is then re-loaded and all previous Downloads are re-attempted. Those which were in progress when stopped will resume from the point they left off.

• Manual Upload Control
Control-Click the User's name in the Upload Queue Favorites List and select Show Uploads. The User's list of queued files will be shown in the Tasks List. Control-Click any of that User's files in the Tasks List and select Manual Upload. This will send the file to the head of the Queue and start the Upload as soon as the remote Client next sends a request for the file.

• Auto-Browse
When a User is selected in the Favorites Window and the Browse Button is clicked, Drumbeat will automatically attempt a Direct Browse of the User's files. If this service is unavailable in the User's client software, DB will then attempt a Server Browse for each of the Networks to which the User is currently connected until there is a successful Browse.

• Change Mac FileType, Creator and File Extension
for incoming files. By default, DB downloads all .mp3's and any file for which the extension of the file is either not present or unrecognized, as an Mac iTunes file. To change the filetype manually, Select Change File Info... from the Tasks List Contextual Menu.

• Quick-Share New Files/Folders.
You can now immediately share any file/folder on your hard drive by adding that files or folder to your Downloads Folder. To use this feature, select Add Shared Files... from the File Menu.

• Faster and more sophisticated Network Switch
When the connection to a User or Server for a file being downloaded is lost, DB now quickly searches for that User (if they are found on another Network) and re-establishes the connection, in most cases, before your place in Queue is lost. If they are not immediately found, DB will continue searching for them until they are either found or the Task is cancelled.

• Save Partial Files
You can now save a partially downloaded file to another location for a later resume of the download. Control-Click any download in the Tasks List and select Save Partial To... to copy the partially downloaded file to another location on your Hard Drive. Later, you can perform a search for the same file from a different User. When ready to begin the download, Control-Click the desired file in Search Results and select Resume Using File... Navigate to the location of the previously copied file to have the Download resume from where it left off.

• Ability to find and use .wsx Server Lists from WinMX Users
• Corrected problem of Low Server Counts in version 1.6.5. • Corrected problem of the invalidating of valid Registration codes and/or mistaking a valid code as already being online.• Corrected problem of a user after having entered a valid code and restarting, was then asked to re-register. • Pointer error in the client signature has been corrected. • Many other bug fixes.
More Screenshots - Click each image to enlarge!