xStarter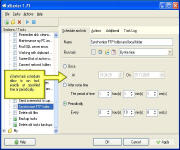 xStarter will help you to automate each and every process in your computer.

With xStarter you can:Perform any file operations; Use extended task scheduler; Safely store data;Monitor files and folders changes; Record and play back Windows macros; Synchronize folders;Work with email, files via FTP and HTTP; Launch programs by task scheduler; Get free lifetime updates.





Download Trial 5.87 MB
Software Information
System Requirements
Version:
1.8.9.29

Windows NT4/2000/XP/2003/Vista
Intel Pentium, Celeron, AMD or compatible processor
256 MB RAM

License:
Free to try, $39.50 to buy
File Size:
5.87 MB
Screenshot :
View Screenshot
Rating :
Key benefits for xStarter:
Save 35% of your working time
By creating macros for everyday tasks, you can decrease your routine IT work load. Tasks can be scheduled to execute periodically or at specific times without direct supervision.

Protect your data
Tasks can be created to backup and archive email and document files effortlessly.

Replacement for Windows task scheduler
Advanced features of xStarter scheduler allows you to specify the program or task launch time more precisely. Your tasks can be executed one time, periodically or by extended time format. It can run as a Windows service so that it is possible to execute tasks even if nobody is logged on in Windows. This assures you that tasks will be executed.

Monitor modified files and folders
xStarter can monitor changes to files and folders and send notification by broadcasting a network message or send email.

Actions in the Internet
Send and receive email messages, manipulate files via FTP, HTTP and a lot more. For example, you can: receive daily reports via email and store attachments in specified folder; send notifications about completed tasks, download log files, etc.

Windows macros
You can record macros while working in all applications within the Microsoft Windows environment using xStarter. Each macro records sequence of keystrokes, mouse movements and user clicks. This sequence is stored in a file and can be played back as many times as required. When a xStarter macro is played back, it will simulate clicks on menu items, buttons, windows and links just as if you had entered them yourself.

Remote control.
With xStarter Web Pilot it will be possible to run tasks on remote computers, view tasks and tasks logs, enable and disable tasks from any Web Browser.

Tasks compiling.
It's possible to compile xStarter tasks into distributable .exe files. Tasks in this case are portable and don't need xStarter to be installed on computers where tasks will be executed.

Automate your everyday tasks without any programming knowledge
Using xStarter is like having the ability to write your own programs without doing any programming. It is very easy to use. It is designed for people with only basic computer skills. Each xStarter task consists of an action list. These actions can be performed in any combination, here just some of them:

create processes;
display messages;
connect to the Internet;
synchronize folders;
perform operations with windows;
manipulate log and text files;
connect and disconnect shared network folders.

Any task can be launched by task scheduler, by hotkey or by system events.
Key Features of xStarter:
Working with files and folders group
Copy and move files and folders;
Delete files and folders;
Create folders;
Synchronize folders;
Search files;
Create ZIP archives;
Create backup files (These are ZIP archives with the current date embedded in the file names);
Remove backup files, based on creation date.
Working with software and system services group
Launch programs;
End programs;
Determine the number of running programs with a specified name;
Start NT services;
Stop NT services.
Working with the keyboard and mouse group
Pass key strokes and stroke combinations on to applications/programs;
Record a succession of key strokes and mouse operations (macros);
Execute a previously saved succession of key strokes and mouse operations (Windows Macros).
Working with Windows devices
Turn off, restart, or switch the computer to standby mode;
Log off the current user;
Eject and close the CD-ROM;
Optimize (clear) memory;
Establish a RAS connection (analog modems, GPRS phones channels for VPN connections, etc. can be used as RAS devices).
Working with the Internet
Download files via HTTP protocol;
Download and upload files via FTP protocol;
Send messages and files via e-mail;
Check and delete e-mails;
Open a web page with the default browser;
Check the connection to a host/computer (PING).
Working with messages
Display messages on the screen;
Send messages to other computers on the network;
Send messages via ICQ.
Working with windows
Close window;
Set focus to a window;
Maximize / Minimize / Restore a window;
Hide / Show a window;
Minimize all windows;
Screenshots.
Working with text group
Write text to a text file (for example, a log file);
Compare two text files;
Search in a text block or a text file;
Locate and extract a specific text block from a message.
Working with network group
Connect to network drives and/or folders;
Disconnect from network drives and/or folders.
Working with xStarter tasks
Activate an xStarter task;
Deactivate an xStarter task;
Launch an xStarter task.
RELATED SOFTWARE DOWNLOADS FOR XSTARTER