WinUtilities
All ine one system performance and optimizer suite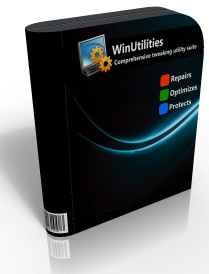 WinUtilities is a collection of tools to optimize your system performance and to remove unneeded files and internet tracks. It allows you to find and remove invalid registry entries, delete your application and internet history, manage your cookies and more. With a startup Cleaner you can also see what programs start automatically with windows and optionally disable selected items. Furthermore, WinUtilities includes options to find true duplicate files, Erase traces of activity, fix or remove broken shortcuts and safely uninstall software. other features include application protect, file split and rejoin, secure file deletion, registry backup and restore, BHO Remove, Auto Shutdown, Windows Tools, Manage scheduled tasks, etc.

WinUtilities Included Tools:
Registry Cleaner, Startup Cleaner, History Cleaner, Disk Cleaner, File Splitter, File Lock, File Shredder, Memory Optimizer, Duplicate Files Finder, Shortcuts Fixer, Process Manager, System Information, Registry Backup/Restore, Registry Search, Uninstall Manager, BHO Remover, Auto Shutdown, System Control, Windows Tools Manager.
Software Information
System Requirements
Version:
10.5

Windows 8/7/Vista/2000/XP/2003
Graphics mode 800x600 with 16-bit colors
Intel Pentium or AMD K5 processor with 133 MHz
512 MB RAM

File Size:
5.80 MB
License:
Free to try, $29.99 to buy
Screenshot:
View Screenshot
Rating :
Currently, these tools listed below included in WinUtilities::
Registry Cleaner
Scans the Windows registry and finds incorrect or obsolete information in the registry. By fixing these obsolete information in Windows registry. The backup and restore function of the tool let you easily backup your whole Windows Registry or restore the Windows Registry to an earlier backup.
Disk Cleaner
A tool for cleaning disks from information that clogs your system and reduces the performance of your computer. With the help of this tool you can search and delete temporary files and folders and other applications, search for invalid links to documents that don't exist, and delete Cookies.
Startup Cleane
Helps you to easily manage program execution at windows startup. this tool is used to administer the programs executing on startup and the files to be loaded at start up.
History Cleaner
This cleaning utility erases all traces of activity on your computer, saves space, protects your privacy, and leaves no history behind.
File Splitter
File Splitter can split any type of file into smaller pieces and rejoin them to the original file. It helps you copy the split ones to floppy disk or CD/DVD, or send them via e-mail.
File Shredder
File Shredder makes sure that no data thief can get his hands on your sensitive data. The tool deletes files permanently, with no chance of recovery.
EXE Protector
EXE Protector is a system utility that allows you to password-protect any Windows executable file. Whenever you try to open protected executable file you will see the prompt that asks you to enter the valid password.
Memory Optimizer
Memory Optimizer optimizes the Memory Management of Windows. No special configuration is needed, Memory Optimizer will auto configure itself. Within minutes you can activate unused resources of your Windows System.
Duplicate Files Finder
Duplicate File Finder helps you to free disk space by finding and removing duplicate files from your system. it is intended to search your system for duplicate files.
Shortcuts Fixer
Shortcuts Fixer tool provides you with an easy and convenient way to address these invalid shortcuts. It scans your system, finds all the invalid shortcuts and reports back to you so that you can remove it from your system.
Process Manager
Process Manager allow you to check your system's performance and manage the running processes on Windows platform. It can Kill all processes that the Windows Task Manager could not or view all process dependencies and launch all known file type in Windows.
Uninstall Manager
Uninstall Manager is an easy to use utility to manage the programs installed on your system. It is used to uninstall the programs from your system and lets them remove from the list of programs appearing in the control panel.
System Information
System Information is a utility which lets you view at a glance all the details of your system. In a easy to use and user friendly interface, it provides you with complete information about your system.
Registry Backup&Restore
Registry Backup/Restore tool is a handy utility for making backups of Registry keys and their sub keys. always make a backup of your registry before making any important changes. this tool will allow you to go back to your original settings if you need to.
Registry Search
Registry Search is a handy utility for searching the registry by specific keyword or wildcard.
BHO Remover
BHOs (Browser Help Objects) are software that put a toolbar on Internet Explorer or otherwise integrates other software into it. Many (Acrobat Reader, Google Toolbar) are desirable. However, spyware companies also install BHOs on your computer. These can be difficult to remove. BHO Remover lists the BHOs that are currently installed. You can then remove those you don't want to keep.
Auto Shutdown
Use this tool to easily schedule your computer for log off, stand by, hibernate, or shutdown on specified of time.
Windows Tools
Manages Windows Tools, provide a easy way to launch these tools build in Windows
System Control
Organizes and manage Windows Settings
Task Scheduler
Use this tool to easily configure cleaning tasks that take place automatically. also, it can manage the system scheduled tasks.
What can WinUtilities do for you?
Scans the Windows registry and finds incorrect or obsolete information in the registry.
Cleans disks from information that clogs your system and reduces the performance of computer.
Easily manage program execution at windows startup
Erases all traces of activity on your computer.
Makes sure that no data thief can get his hands on your sensitive data
Password-protect any Windows executable file
Optimizes the Memory Management of Windows.
Split any type of file into smaller pieces and rejoin them to the original file
Helps you to free disk space by finding and removing duplicate files from your system
Finds all the invalid shortcuts and reports back to you
Check your system's performance and manage the running processes
Manage the programs installed on your system
Checks hardware, view at a glance all the details of your system
Provides you a easy way to launch these tools build in Windows
Backup and restore the Windows Registry
Search Registry with the advanced registry search engine
Protect your privacy and encrypt sensitive data
Manages and optimize your Windows Settings
Schedule the cleaning tasks that take place automatically
Schedule your computer for log off, stand by, hibernate, or shutdown on specified of time
RELATED SOFTWARE DOWNLOADS FOR WINUTILITIES