Web Scraper Plus+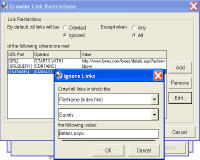 Web Scraper Plus+ is a complete web extraction and automation suite. It has a simple wizard-driven interface for common tasks, but has more advanced functionality than all of our competitors combined.

Web Scraper Plus+ components: Templated Web Data Extraction; Web Spider / Web Crawler; Automated Form Submission; Data Quality Tracking; Workflow Management ; Data Cleansing and Transformation.
Since 1999, Velocityscape's Web Scraper Plus+ has been the web automation and web data mining solution for businesses large and small. The web data extraction market had previously been defined by hiring programmers to develop custom applications. The costs to develop, maintain, and update these custom applications are tremendous, but this used to be the only way to get the information you needed. Web Scraper Plus+ changes this.




Software Information
System Requirements
Version:
5.5.1

Windows 8/7/XP/Vista
512 MB RAM
Pentium II CPU

License:
Free to try, $419.00 to buy
File Size:
77.0 MB
Screenshot :
View Screenshot
Rating :
Key Features of Web Scraper Plus+:
Point and Click Extraction
Use the simple wizard-driven interface of the Datapage Editor to map sections and fields on a web page to columns and rows in a spreadsheet or database.
Automate Web Forms
Take control of search and login forms using Web Form Explorer. Move seamlessly from testing to fully automated logins and search submissions.
Customizable Web Crawler
Automatically download an entire site, follow next page links, or pull down rich media. Customize the crawler using boolean link filters to perform exactly how you wish.
Integrated Data Cleansing
Easily scrub data of imperfections using our predefined cleansing filters or create your own. Remove extraneous HTML, resolve a relative url as fully qualified, and more.
Reliable and Scalable Architecture
Rest comfortably knowing that Web Scraper is built upon enterprise grade components like WinHTTP and Microsoft Data Engine (MSDE). Such endowments allow Web Scraper to run at sustained rates of 10 pages/sec -- 15 to 20 times faster than most of our competitors.
Extract Data Directly to Excel
Start analyzing immediately. Simply browse to a new or existing Excel spreadsheet from the wizard, and Web Scraper takes care of the rest. No imports, no queries, just point, click, extract.
Leverage Excel Formulas
Leverage your knowledge of Excel formulas to tell Web Scraper which files to download, which searches to submit, or which sites to crawl.
Browse Web Scraper Data from Excel
Experience the best of both worlds: the power of SQL Server; and the ease of use of Excel. You can extract directly to Web Scraper's powerful SQL Server database, then view and analyze the data directly in Excel.
Submit Search Forms from Excel
Edit what Web Scraper sends to web forms directly from a spreadsheet. Each column maps to one of the controls on the form. Change what's in cell and you change what gets submitted to the website. The best part is, all you need to do is select a web form, Web Scraper generates the spreadsheet and builds all the column mappings.
Support for Most Modern Databases
Connect directly to your preferred database using OLEDB. Web Scraper supports connection to any OLEDB compliant data provider, and ful support including automatic table and database creation on Access, Excel, Microsoft SQL, and MySQL.
HTTP Power Tools
Power users appreciate Web Scraper's full support of HTTP sessions, cookies, browser authentication, static referrer urls, custom user agents, and highly configurable bandwidth throttling.
Quality Assurance Metadata Logging
Take control of your data using Web Scraper's relational metabase. Every download, every form, and ever extraction right down to the field level is logged and can be traced back to its origin. When data quality is critical, there is just no substitute for an audit trail.
HIPAA and DoD Security Compliant
Sleep well with the knowledge that Web Scraper meets or exceeds the highest security standards required by either HIPAA or the United States DoD. Web Scraper uses AES-256 to encrypt all database connections and passwords stored internally.
RELATED SOFTWARE DOWNLOADS FOR WEB SCRAPER PLUS+