VisionLab Visual C++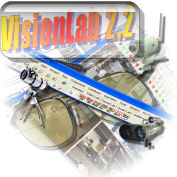 VisionLab is a set of components for basic computer vision. They allow rapid development of fully featured motion detection applications for the security industry with almost zero lines of program code.

VisionLab also includes video capturing components based on both Video For Windows(VFW), and DirectShow, so no additional components are needed in order to start building motion detection applications. Includes: Video Capture components (Win32 API and DirectX/DirectShow); Video Display; Motion Detection; Canny component; Hough Lines Component.


Download Now 51.4 MB

Buy Now $370.00 USD
Software Information
System Requirements
Version:
3.1

Windows 95/98/ME/NT 4.x/2000/XP/2003
Pentium II CPU
Requires Visual C++ 6.0 or higher version such as Visual C++.NET.

File Size:
51.4 MB
License:
Free to try, $370.00 to buy
Rating :
Supported Platforms:
Visual C++ 6.0
Visual C++ 2003
Visual C++ 2005
Free for non commercial purposes

VisionLab is fully functional and free for non commercial purposes! This means that you can use it for your personal non commercial needs, for fun, hobby, or evaluation purposes. You can also use it free for study and even teaching. If you are teacher currently you also will not need a commercial license. In the future however a special low cost tutor license will be introduced. For students the product is absolutely free!

Technologies

VisionLab includes a full set of video capturing components. They support the old fashion Win32 API( Video For Windows ( VFW ), WaveAPI, Audio ACM), the newer DirectShow, and even allows if needed any mixture of them. The developer can choose to go with any of them, to use all, or can switch from the one to the other at any moment. The components hide the complexity of all of the approaches, and make them look almost identical from the users prospective.

Here is the full list of the supported technologies:

Win32 API:
Video For Windows ( VFW )
Audio Compression Manager ( ACM )
WaveAPI
DirectX:
DirectShow
Intel:
Intel MMX
Intel Performance Primitives ( IPP )