VideoCAD with the HID protection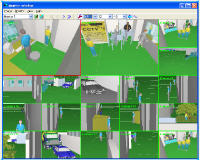 VideoCAD is a multifunctional tool for professional video surveillance system design, modeling and measuring parameters of video image and video equipment.
VideoCAD allows even the beginners to use the new opportunities appearing to be hard to obtain without it due to the complexity of calculations and therefore not being used even by the skilled engineers of CCTV.
VideoCAD practically boosts the quality of CCTV design to a new level which appears to be beyond any competition with those lacking the program.




Software Information
System Requirements
Version:
7.0

Windows 7, NT, 2000, XP, Vista
Pentium II CPU
256 MB RAM

License:
Free to try, $350.00 to buy
File Size:
11.10 MB
Screenshot :
View Screenshot
Rating :
VideoCAD allows to:
Choose the most suitable lenses, heights and locations for camera installation to provide the required parameters of view areas for detection and identification of a person and license plate reading.
Calculate the horizontal projection sizes of viewing, person detecting, identifying and license plate reading areas to draw them on the location plan.
Calculate the image size on display of any object in camera view area in percentage of display size, pixels, TV lines and millimetres (inches in case of Imperial format).
Calculate and model depth of field of each camera in project.
Choose visually a relative location of cameras using the graphics window with CAD interface.
Locate cameras and cables on the prepared layouts in *.bmp, *.jpg, *.emf, *.wmf, *.dwg, *.dxf formats. To import *.dwg and *.dxf files the CAD Import module by CAD Soft Tools http://www.cadsofttools.com was used.
Obtain a drawing containing two projections of site layout with the camera images, calculated view areas and cables, and with coordinate grid and titles to be used in graphical path of the project as well.
Print the obtained drawing on one or several pages. You can use prepared frames with standard title-Block and logo.
Export the obtained drawing into any of the following formats: *.bmp,*.emf, *.wmf, *.dxf (R14),*.dxf (R2000).
Obtain a text file with full description of all cameras in project, view areas and cables to be pasted into a project explanatory note or used as instruction for installation.
Get detailed adjustable table of all initial and calculated parameters of cameras in project. Print the table or export it to *.txt, *.csv,*.rtf, *.xls, *.htm formats.
Construct three dimensional models of real scenes with the possibility of loading prepared 3D models (a person, a car, etc., this library can be enlarged).
Model observed scene parameters (illumination, visibility limitations).
Model luminaires considering spectrum of radiation and spectral sensitivity of image sensors, including discharge lamps with complex spectrum and infrared LED illuminators.
Model camera parameters (spectral response, number of pixels, resolution, minimum illumination at known signal/noise ratio, IRE and aperture, maximum signal/noise ratio, electronic shutter, AGC, BLC, gamma, day/night cameras).
Model lens parameters (focal length, aperture, auto iris DC and Video Drive).
Model DVR parameters (brightness, contrast, compression, horizontal and vertical sharpness).
Obtain Image Model for each camera in the project based on models of scene and equipment. This image can be printed and saved.
Maintain database of camera models, assign different models for cameras in project, compare models with each other.
Measure sensitivity and resolution of real video cameras in order to obtain precise parameters for modeling (illumination meter is additionally required).
Analyze real video images and live video on the computer monitor. Measure signal-to-noise ratio and other parameters.
Determine from the Spectral Power Distribution curves
and measure in practice the Spectral efficiency of light sources for the different image sensors.
Design operator interface using the Monitor window.
Calculate the length and electric parameters of cables.
Save expenses and win tenders due to the reduction of cameras' quantity in projects and the increase of their efficiency.
Reduce the time expended and boost the design quality.
Cut down the amount of controversial situations with customers and accelerate their solution.
RELATED SOFTWARE DOWNLOADS FOR VIDEOCAD 6 WITH THE HID PROTECTION