Update Services Engine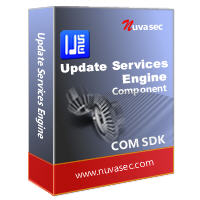 Update Services Engine is a set of COM interfaces developed by Nuvasec to detect vulnerabilities existing on a computer, and examine which security updates are currently available for the computer. Developers can integrate Update Services features into computer management or patch management software, and easily write scripts and programs to scan, download, and install the updates to fix the vulnerabilities.
Update Services Engine is a well-designed SDK for developing vulnerability detect and patch management software, and provides very rich programming interfaces. It supports for most products of Microsoft products, including operating systems and applications, More than 960 different versions of products are supported, more than 43 different languages of patches are supported, more than 50,000 patches are collected in vulnerability database, and these almost covers all the security updates released by Microsoft after the year 2000

Update Services Engine consists of two parts, they are EDLL (Engine Dynamic Link Library) and VDF (Vulnerability Database Files). EDLL is the implementation of COM interfaces, and composed by two dynamic link library, they are USE.dll and USD.dll. The USE.dll implements the COM interfaces about scanning for vulnerabilities and installing updates, provides functionalities of querying detailed information. The USD.dll implements the functionalities of updates download. VDF contains methods of detecting vulnerabilities and updates, includes details of vulnerabilities and updates that are supported by Update Services Engine. VDF will be updated time in time as the release of the latest vulnerabilities and updates published by software vendors. Users can get the latest version of the Update Services Engine from Nuvasec by providing a valid license.

Developers can write applications in many modern programming languages by using Update Services Engine. It defines interfaces and objects that are accessible from Visual Basic, VB.NET, Visual Basic Scripting Edition (VBScript), JScript, and from C#, C and C++, Delphi, ASP, ASP.NET, PHP and Java. A familiarity with COM programming is useful to the programmer.





Software Information
System Requirements
Version:
2.0.0.1592

Windows 7/2000/XP/Vista/2003/2008
Pentium II CPU
RAM: 64M or more.
MSXML 2.5, 2.6 or 2.7(MSXML.dll must be installed on your computer)

License:
Free to try, $1999.00 to buy
File Size:
2.68 MB
Screenshot :
View Screenshot
Rating :
Key Features of Update Services Engine:
Full support for Microsoft products.
Provide rapid and accurate detection and repairing.
Vulnerability Database Files (VDF) is updated time in time.
Verify each patch before its installation
Provide rapid and accurate detection and repairing
Automatic installation mode supported
It contains very detailed information about vulnerabilities, updates that fix the vulnerabilities.
Support pre-installed softwares and updates detection
Support patch filtering
Programers can easily write scripts and programs to scan, download, and install the updates to fix vulnerabilities with these COM interfaces.
Support multiple network protocol for patch download
Support various proxy servers
Download patch more faster
Support for server and proxy authentication
Bandwidth control for patch download
Support downloading many patches at the same time.
RELATED SOFTWARE DOWNLOADS FOR Update Services Engine