The Recipe Processor 2000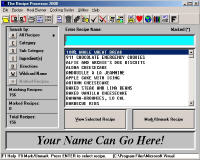 The Recipe Processor is the perfect recipe management program to manage recipes. it offers complete recipe managment from the novice to professional chef. The Recipe Processor can be easily configured as a single user system, or a multi-user system sharing a database across a LAN.
Planning a party or just your evening meal? The Recipe Processor offers a search function for recipes by ingredient(s), categories, recipe name, directions text, or wildcard.With the Recipe Processor you can adjust serving size & ingredient amounts. For the weight conscious you can calculate nutrition and cost in real time.

In preparation for your meal or menu, The Recipe Processor offers the ability to print your shopping list so that you can be assured that no item will be forgotten. An Integrated Spell Checker and On-line help are incorporated.
The Recipe Processor contains an integrated meal planner that lets you plan your meals and monitor your nutrition on a daily and weekly basis.
Create your own Cooking Guides and share them with other users of The Recipe Processor 2000. Add Pictures, Audio, and Video to your recipes and Cooking Guides. Make your recipes and Cooking Guides interactive with multi-media! What a GREAT way to pass recipes from generation to genertion, and preserve family history Imagine watching Grandma prepare her favorite holiday dish.
The Recipe Processor allows you to import recipes from Web Pages with just a few mouse clicks.
Create Web Pages from your recipes! Recipes can be exported in HTML format, and displayed on the Web along with attached picture and media files!




Software Information
System Requirements
Version:
7.0

Windows 98,Me,NT,XP,2000,Vista
Pentium II or higher
256 MB RAM

License:
Free to try, $25.00 to buy
File Size:
3.01 MB
Screenshot :
View Screenshot
Rating :
Basic Features:
Powerful recipe search tools - search for recipes by name, partial name, category, sub category, ingredient(s), recipe directions text, or by wildcard name.
Recipe marking allows you to mark recipes for group operations, such as printing, shopping list, deleting and exporting.
Adjustment of serving size will automatically update the correct ingredient amount(s).
RP 2000 can display amounts as either fractions or decimals.
The Recipe Processor displays both ingredient and cooking directions on one screen, each in its own scrollable window.
Create non printing comments for each recipe. Great for tips that you don't want to share! Comments can also be added to scanned recipes. Show me!
Create shopping lists from recipes you select; or key in your own lists. Save and combine your shopping lists for future use.
Import and export capability. This function lets you exchange recipes with friends. The Recipe Processor can import from Meal-Master, MasterCook II, and Recipe Box 5.5.
Unformatted Import allows you to import recipes from any ASCII file or Web Page by using cut and paste operations. Requires almost no keystrokes at all!
Access most program functions with a single mouse click from speedbar buttons.
Customize the program with your own colors and fonts for comfortable screen displays.
RP 2000 contains twelve cooking guides, from Baking Secrets, to Time and Temperature baking guides.
RP 2000 lets you create your own Custom Cooking Guides, and share them with other RP 2000 users. You can even add sound and video to create an interactive , multi-media Cooking Guide.
User friendly interface featuring context sensitive on-line help.
Advanced Features:
RP 2000 is now Network enabled. There are two networking modes: PEER TO PEER, which allows any Recipe Processor program to access and share any Recipe Processor database on the LAN. There is also LOG ON mode, in which one Recipe Processor acts as a "server", and shares its database with other Recipe Processor programs set up as "clients". Log on mode requires users to log on, with access rights of READ ONLY, READ/WRITE, or ADMINISTRATOR.
Each recipe can have a picture attached. Unlimited pictures can be "embedded" in the recipe directions text.
Each recipe can have a media file (any Windows compatible media file) attached to it. Unlimited medi files can be "embedded" in the recipe directions text.
Display two recipes side by side for food count and cost comparisons.
Word Definition Dictionary. This user expandable dictionary comes with over 1,000 definitions for cooking terms. Show me!
Integrated Spell Checker.
Integrated daily and weekly Meal Planner. Show me!
A real time Nutrition calculator will tell you how many calories, fat, sodium and cholesterol are in each serving. RP 2000 version adds carbohydrates, protein, fiber, and two user defined nutrition columns to the food count calculator. Show me!
Recipe costing will tell you how much the recipe will cost. Excellent for catering jobs.
The ability to create and maintain a unique database (or cookbook) in each directory.
Quick entry for ingredient descriptions, measures, and amounts are available from a popup window. (All windows are configurable and their contents can be controlled by the user.)
Customize speedbars with RP 2000.
RP 2000 lets you customize the size and order of the Recipe Display Header section. The display items can be moved anywhere in the window, and item size, color and fonts can be assigned to the windows contents. Show me!
Complete cookbook printing utility. Registered Customers will receive the cookbook printing utility. Print a cookbook from your recipes, complete with table of contents, index and custom cover page.
Create Web Pages from your recipes! RP 2000 allows you to save recipes in HTML format that can be displayed on the web, including attached pictures!
Import recipes that are saved in HTML format, including pictures and media!
RP 2000 can automatically Backup your recipe database, including pictures and picture attributes. Backup location is user definable
RELATED SOFTWARE DOWNLOADS FOR THE RECIPE PROCESSOR 2000