StationPlaylist Creator Pro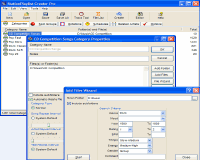 Creator is a simple to use, yet powerful music/spot scheduler and playlist creator for radio & internet broadcasting. Also suitable for in-store automated music systems. It is used to design your station format using rotations of music categories and spot groups (jingles, ads, etc).
Rotations are scheduled for specific hours of the day giving you full control over what types of music or programmes are scheduled for different times of the day or days of the week.
Creator is capable of producing much more controlled and sophisticated scheduling than a basic random shuffle of your music. Your listening audience will appreciate the difference. Here are some examples of what is possible:
Prevent two or more fast (or slow) tempo songs from being scheduled consecutively, unless that is desired.
Schedule different genres of music at different times of the day, eg. slower songs in the evening, faster in the morning, Saturday night fast tempo party music.
Schedule a specialty show with a specific set of genres at a specific time every day or week.

Once the station format has been designed, Creator generates sophisticated playlists (logs) in seconds, every day or every week.
The playlists contain the list of tracks which will play in your broadcast playback automation system. StationPlaylist Studio is highly recommended for best compatibility with Creator's features.
Creator can also be used with free players such as Winamp or Windows Media Player for low budget automation using the StationPlaylist Scheduler utility included free with Creator.




Software Information
System Requirements
Version:
4.12

Windows Vista/XP/Win2003/Win2000
8MB RAM + roughly 1MB RAM for every 1000 audio files.
Optional soundcard for track previewing/voice track recording
4MB disk space

Download Size:
2.65 MB
License:
Free to try, $219.00 to buy
Screenshot :
View Screenshot
Rating :
Hare are some Features of StationPlaylist Creator Pro:
Maximum number of days a playlist may be generated in advance.
Generate personalized HTML playlists for your website or intranet. Staff, remote voice tracking DJ's, and/or listeners can see what has played and is yet to play. DJ's can see the selected songs for their shift wherever they are in the world.
Related Artist support.
Several artists may be treated as one artist as far as the Artist Repeat Protection is concerned.
Advanced Playlist Editor
Voice Tracking System
Easily and quickly record and insert voice announcements into the playlist. This makes your station sound 100% live when unattended in automation mode. Voice tracking provides a way for a DJ to pre-record a show spanning several hours within a few minutes.
Traffic/Billing log file import
Supports all major traffic/billing software including Natural Log and Traffic Manager for advanced management of advertisements.
Advertising (Spot) Summary
A summary of the advertising spots scheduled in the playlist is generated as a spreadsheet compatible file, which may also be printed. This may be used for billing purposes.
Password protection
A master password may be applied to prevent all access to Creator. A password may also be applied to protect against creating a playlist.
User-definable playlist format
This makes Creator compatible with most audio players from simple MP3 players through to sophisticated broadcast automation software.
Song Repeat Interval
This protects against the same song repeating within a specific time period. Each category can override the system default setting.
Artist Repeat Interval
This protects against the same artist from repeating within a specific time period. Each category can override the system default setting.
Title Repeat Interval
This protects against the same song title from repeating within a specific time period. This is useful when you have the same song in your library recorded by different artists, such as Christmas songs. Each category can override the system default setting.
Automatic song Intro and Outro announcement support
Pre-recorded song and/or artist introductions may be selected along with an associated song. This helps your station sound live when unattended. Intros may play simultaneously with the non-vocal beginning of the associated song (song ramp overlap) when using StationPlaylist Studio Pro.
Track Summary for song reporting
A summary of the tracks scheduled in the playlist is generated as a spreadsheet compatible file, which may also be printed. Track details include Artist, Title, Album, Composer, CD catalog number, Record Label, and the number of times used.
Time Checking
The Time Checking feature ensures hourly playlists are never short, and are at least 60 minutes in duration.
Schedule all major audio file formats
Supports MP2,MP3,MP4(AAC),M4A,OGG,WAV,APE,AIFF, WMA & OTS audio file formats.
Schedule all standard video file formats
Supports MPEG, MPG, AVI, WMV, ASF video file formats.Note: Studio does not support playing video files.
Schedule internet streams
Internet streams may be scheduled, such as news feeds. Requires StationPlaylist Studio for playback.
Schedule Hour Markers & Break Notes
These are non-audio items which can be inserted in the playlist. Some broadcast playback systems can utilize these items to control various functions within the player, or simply provide reminder messages for the DJ.
Schedule Timed Events
Spots and Break Notes may be scheduled to occur at precise times, for use with compatible playback software such as StationPlaylist Studio.
Easily add tracks to library
Tracks do not need to be individually entered into a database. This can saves an enormous amount of time adding new music to the library. Simply copy new songs to a disk folder and Creator will utilize them next time a playlist is generated.
Read existing file tags
Creator can read existing file tags to establish artist, title and other information, or it can use the filename where no tags are present. Supports ID3v2 & v1, RIFF WAV, Ogg Vorbis, MP4/M4A, WMA tags.
Custom file tags
Rather than using a cumbersome database which can easily become corrupted or lost, Creator utilizes a custom file tagging system to store information in each audio file, such as Artist, Title, Album, Year, Genre, Composer, Record Label, CD catalog number, schedule restrictions, last 18 scheduled times, and much more.
Automatic Data Backup
Copies all configuration data to a folder or another computer automatically.
Very low maintenance
Once the playlist format has been initially configured, Creator does not need any maintenance to generate playlists every day or week. Only the addition or removal of advertisements and other spots may be required.
Very easy to use and Fast!
Every day or week, just click the Create Playlist button to generate a playlist in a matter of seconds. This operation can be automated using StationPlaylist Studio or the included StationPlaylist Scheduler to provide unattended automation indefinitely.
12 months free updates and email support
All new releases major and minor, containing new features and any bug fixes, will be provided free for 12 months from the date of purchase. After this period, an additional 12 months may be optionally purchased for just $27 / €19 every year.We reply to all emails received and will promptly help with any problems plus basic training if necessary.
High Accessibility
StationPlaylist strives to make our software as accessible as possible. Visually impaired users will find all functions accessible via the keyboard. Also, standard Windows controls are used for compatibility with screen readers.
RELATED SOFTWARE DOWNLOADS FOR STATIONPLAYLIST CREATOR PRO