Spotmau BootSuite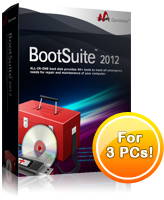 No.1 Boot Utility Disk - highly praised as "lifesaver" by world famous PC Mag editor.
Over 40+ utility functions provided on this boot disk for you to √ Boot up any computer √ Rescue crashed Windows and hard drive √ Reset Windows user/admin password √ Rescue data from crashed or damaged computer √ Partition, format, clone, deep wipe hard drive √ Install Windows easily √ And even more...
When your computer or Windows crash, even hard disk crash, Spotmau BootSuite will be the best and complete emergency solution for you, which provide a full toolkit for PC emergency recovery and repair. Spotmau BootSuite works under boot environment with Microsoft WinPE technology.
You can use it to boot up any computer with bootable CD or USB. Powerful and Easy!
With this complete package Bootable Computer Repair Utility Suite you can almost solve all your PC problems. It includes Windows Recovery, Data Recovery, Disk Management and Password Recovery.




Buy Now $49.95 USD
Software Information
System Requirements
Version:
2012

Windows 8/7/XP/Vista
PC with 1 GHz or higher
512 MB available RAM

License:
Free to try, $49.95 to buy
File Size:
12.00 MB
Screenshot :
View Screenshot
Rating :
Spotmau BootSuite Features Include:

Boot Up Any Computer
This is the most powerful boot utility disk. When your computer crashes, cannot enter Windows, or you want to work under boot environment, this is your NO. 1 choice.
Just put it in your CD/DVD drive or plugin USB drive and restart your computer!
Boot up ANY desktop or laptop.
Support booting from CD/DVD drive and USB drive.
Microsoft authorized WinPE technology.
100% compatible with all computer brands.
RAPIDLY Rescue Crashed Computer or Hard Drive
If your Windows has problems or has crashed, we can help!
WOW!! With Spotmau BootSuite in hand, you do not need to worry about CRASH and "blue screen" any more!
Boot up computer even if it is infected with virus.
Fast recovery from crashes such as bluescreen and blackscreen.
Fix booting problems and random crash.
Fix missing file crash such as "ntldr is missing", "bootmgr is missing" etc.
Repair partition table.
Repair corrupt registry.
Repair registry key value infected by virus.
Repair crashed MBR even it is infected with virus.
1-click system file recovery.
Rescue Windows 7/2003/XP/NT/Vista.
Rescue Data from Crashed Computer or Hard Drive
If your computer or hard drive is seriously damaged and can not be restored, BootSuite can transfer your precious personal files out to external USB drive.
WOW!!Do not panic any more! Get this software and rescue your valuable data and hard drive!
Transfer files (photo, music, document etc.) to external storage devices.
Rescue files from crashed or formatted hard drive.
Rescue files from crashed Windows.
DOS Command Environment
If you want to work MS-DOS environment, this is the right tool.
Provide MS-DOS command environment.
Include all major DOS commands: chkdsk, debug, fdisk, DiskCopy, Scandisk, etc...
Recover Your Windows CD Key
If you decide to reinstall Windows, you need Windows product key.
1-Click to retrieve Windows product key from crashed or good computer.
Clone Entire Hard Drive or Partition
"Clone" means that you can copy EVERYTHING including Windows, programs, files, and settings from your old hard drive to a new one! Now you do NOT have to reinstall Windows and programs in your new hard drive.
Totally copy entire hard drive to a new one.
Support all Windows versions.
Support IDE, SATA, SCSI, USB, FireWire, and more.
You can clone to an internal disk and external disk.
Clone entire hard drive or partition.
The cloned hard drive will be bootable!
Backup and Restore Files and System
When you are doing important computer recovery or upgrade project, performing one step wrong can cause sequential problems and waste your time. With this handy backup and restore tool you can backup your system or partition and undo any of your operations by restoring from backup in one click.
Backup file, folder, partition or entire hard drive.
Backup to various storage devices such as USB, internal hard drive, CD, DVD, ZIP, FireWire, etc.
Backup large volume data in minutes.
Restore at any moment.
Wipe Entire Hard Drive or Partition
This function can deeply wipe the entire hard drive or partition in one click. It can be used for following purposes:
When you want to reinstall Windows, deep wiping can give you a fresh start.
When your computer is affected with boot sector virus, deep wiping can kill the virus.
When you want to clean an old hard drive, deep wiping can speed up hard drive.
When you want to donate your computer, deep wiping can prevent your data and files from recovering by data recovery software. (We highly recommend you wiping your hard drive before donating!!!).
Partition, Format and Clean up Your Hard Drive
When you plan to reinstall Windows, upgrade current hard drive, or install new hard drive, this partition tool is your right choice. Working together with Clone tool included in this software, it will make your hard drive upgrade project a piece of cake.
No need to pay $49.95 for a partition software, since it is already included inside BootSuite with other 40+ tools.
Create / Delete / Activate partitions.
Split / Merge / Resize partitions without losing data.
Create / Convert primary partition and logical partition.
Convert FAT16 / FAT32 / NTFS partitions.
Quick Format / Resize / Hide partitions.
Rebuild the lost partition table.
Backup or Restore partition.
Recover MBR (Master Boot Record).
View any sectors.
Surface scan to check for bad sectors.
Deep clean entire hard drive or partition in one click.
RELATED SOFTWARE DOWNLOADS FOR Spotmau BootSuite